DINOZOZO Los Angeles Lakers Tin Sign
NBA Basketball Gift for Fans – Custom Metal Signs
Introducing the DINOZOZO Los Angeles Lakers Tin Sign, a must-have for every Lakers fan. This custom metal sign proudly showcases the iconic Los Angeles Lakers logo and offers personalization options, allowing you to create a unique and personalized fan decoration. Discover more about this fantastic piece and how you can make it an extraordinary symbol of your passion for the Lakers.
Customize Your Fan Decor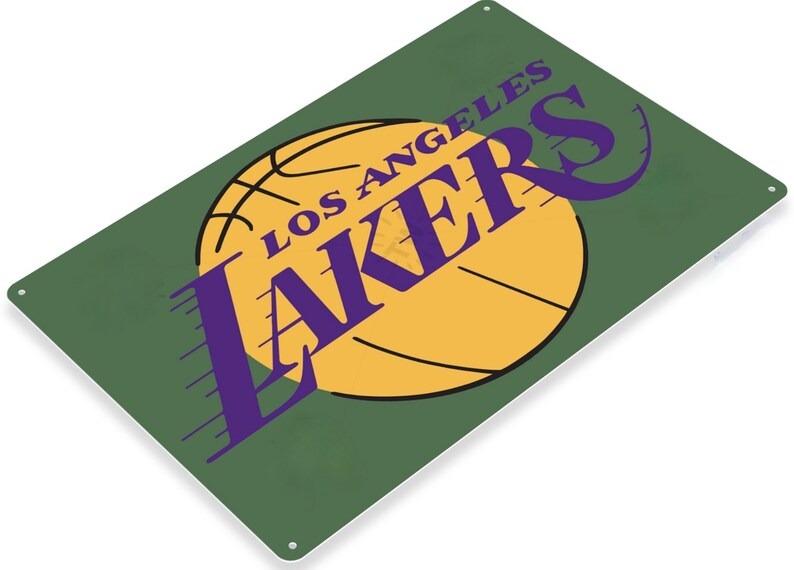 The DINOZOZO Los Angeles Lakers Tin Sign features the legendary Lakers emblem and provides the opportunity for personalization. Whether you choose to add your name, a special message, or any text of significance, this sign can be customized to create a unique fan decoration that truly reflects your unwavering loyalty to the Los Angeles Lakers.
The Perfect Gift for Lakers Enthusiasts
If you're on the hunt for the ideal gift for a fellow Lakers fan, this personalized metal sign is an excellent choice. Whether it includes their name or a heartfelt message, it becomes a cherished gift that symbolizes their deep connection to the Lakers. Crafted from durable metal, it's built to last, ensuring it remains an essential part of their fan memorabilia collection for years to come.
Show Your Lakers Spirit
The DINOZOZO Los Angeles Lakers Tin Sign is more than just decor; it's a bold declaration of your unwavering support for the Lakers. The classic design, combined with personalized text, elevates your space with Lakers pride. Whether displayed in your fan cave, living room, or any area of your choice, it adds both style and team spirit, enhancing your surroundings and making every game day an extraordinary occasion.
Don't miss the opportunity to make a personal statement of your loyalty to the Los Angeles Lakers. Place your order for a custom metal sign today and let your Lakers pride shine!