DINOZOZO Best Barbeque Smokehouse Modern BBQ Grill Father's Day Gift Custom Metal Signs: A Captivating Tribute to the Culinary King of the Grill
Infuse your backyard barbecue area with the captivating charm of DINOZOZO's Best Barbeque Smokehouse Modern BBQ Grill Father's Day Gift Custom Metal Signs. These exquisite pieces not only serve as a warm welcome to your guests but also stand as a constant reminder of the culinary expertise and unforgettable experiences you've cultivated for your beloved patrons or family members.
A Symphony of Culinary Charm, Personalized Flair, and Enduring Style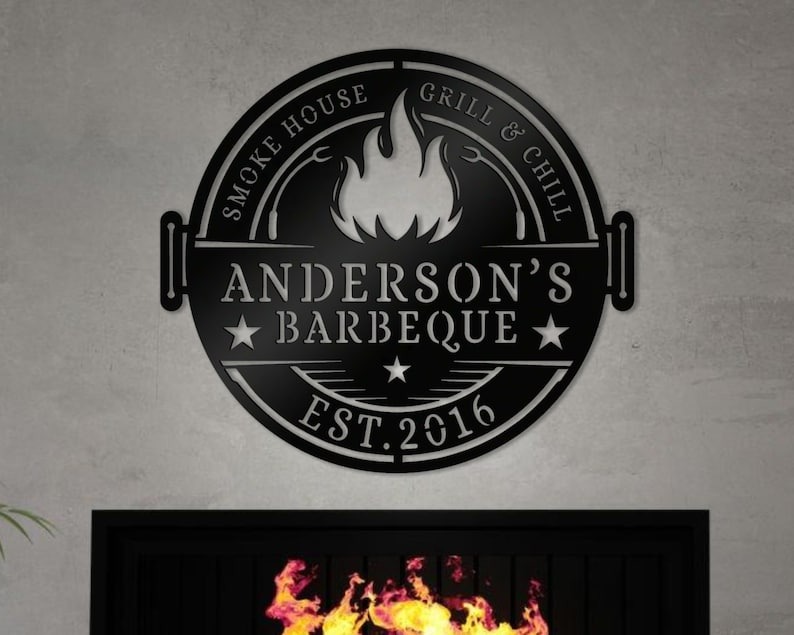 These signs feature a striking design that seamlessly blends the essence of barbecue mastery with the allure of tantalizing aromas, the simple joys of gathering around the grill, and the inviting atmosphere of your outdoor oasis. The bold phrase "Best Barbeque In Town, Where Food is an Art" is proudly displayed against a backdrop of sizzling flames and billowing smoke, evoking a sense of excitement and inviting guests to step into a haven of culinary artistry and cherished memories.
A Lasting Symbol of Warm Hospitality, Backyard Bliss, and Culinary Prowess
These signs embody the essence of hospitality, intertwining the promise of exceptional backyard grilling experiences with the simple joys of life around the grill and the inviting atmosphere of your outdoor oasis. The tantalizing aromas of smoked meats, the enticing sizzle of burgers, the laughter and camaraderie of friends and family gathered around, and the warm glow of patio lights are all captured within the sign's design. These signs create a welcoming atmosphere that draws guests in and encourages them to savor every moment of culinary enjoyment, fostering cherished memories that will last a lifetime.
Crafted with Care for Lasting Beauty and Enduring Remembrance
Made from durable metal, these custom signs are weather-resistant and built to last, ensuring that they will continue to grace your backyard for years to come. They can be displayed indoors or outdoors, adding a touch of elegance, lasting character, and culinary charm to your backyard's interior or exterior walls. Whether adorning your cozy patio seating area, welcoming guests from afar, or guiding them towards the tantalizing aromas of your grill, these signs will enhance the overall aesthetic and invite guests or family members to step into your haven of culinary fun, relaxation, cherished moments, and culinary excellence.
Personalized to Reflect the Unique Identity of Your Backyard and Grill Master Prowess
With a variety of colors, fonts, and designs to choose from, you can create a sign that perfectly matches the personality and style of your backyard and grill master prowess. You can also add your family name, a special message, or even a catchy tagline to make your sign truly one-of-a-kind, highlighting the unique experience you offer to your guests or family members.
A Tribute that Celebrates Warm Hospitality, Personalized Charm, the Joy of Backyard Gatherings, and Unforgettable Culinary Experiences
Share the captivating charm of your backyard's unique identity and unwavering culinary passion with DINOZOZO's Best Barbeque Smokehouse Modern BBQ Grill Father's Day Gift Custom Metal Signs. They make an exceptional addition to your backyard and a perfect gift for Father's Day, creating a welcoming atmosphere, piquing the interest of passersby or family members, and serving as a constant reminder of the allure of backyard grilling, the simple pleasures of life around the grill, the inviting atmosphere of your outdoor oasis, and the exceptional culinary experiences that await them, setting the stage for unforgettable culinary experiences that will delight and satisfy.
Order Your Custom Metal Sign and Elevate Your Backyard's Ambiance, Cultivate Unforgettable Memories, and Dish Out Culinary Excellence
Bring the timeless appeal of custom metal signage, the allure of backyard grilling bliss, the culinary expertise of your grill master, and the unwavering spirit of culinary excellence into the heart of your backyard with a personalized piece from DINOZOZO. Order yours today and let the distinctive style of your backyard shine brightly, forever etched in this beautiful tribute to your passion for grilling, creating unforgettable poolside memories, and backyard experiences that will delight, satisfy, and impress with your culinary mastery.