DINOZOZO Houston Astros Aluminum Parking Sign: Baseball Signs Gift for Fans Custom Metal Signs
Introducing the DINOZOZO Houston Astros Aluminum Parking Sign, a remarkable creation crafted for dedicated baseball enthusiasts. Made from high-quality aluminum, this personalized custom metal sign serves as the perfect parking sign for fans who bleed orange and blue. Let's delve into what makes this sign an exceptional addition to your fan space or a thoughtful gift for fellow Astros supporters.
Your Personalized Parking Spot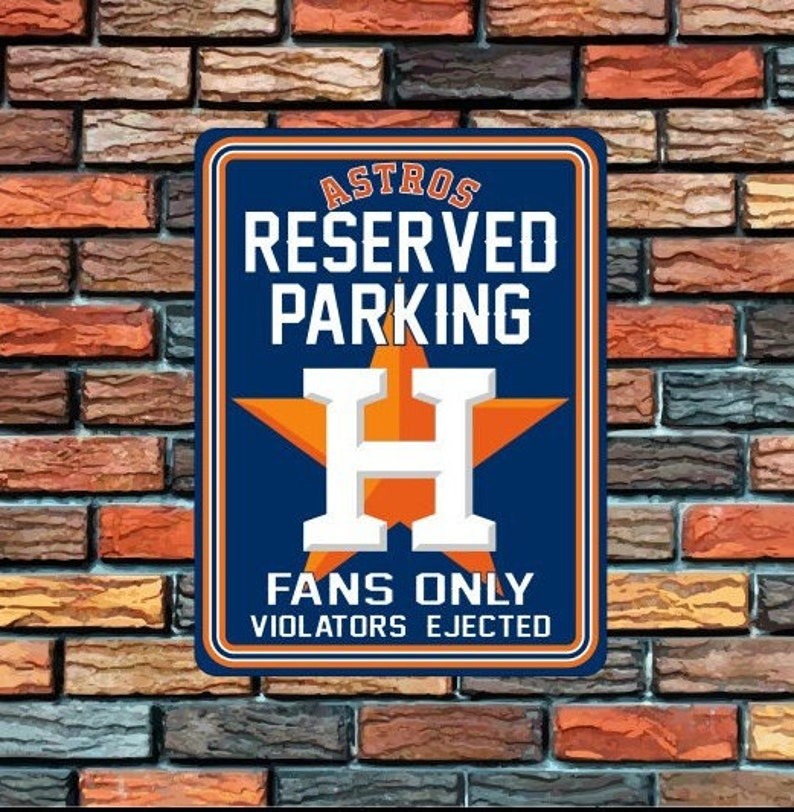 The DINOZOZO Houston Astros Aluminum Parking Sign offers a unique way to display your passion for the team. Featuring the iconic Astros logo, it stands as a clear marker of your unwavering support. With the option for personalization, you can add your name, a custom message, or any text that's special to you. This feature lets you create a one-of-a-kind parking sign that not only showcases your team loyalty but also your individuality as a devoted fan.
The Ultimate Fan Gift: Personalized and Iconic
When you're on the hunt for the perfect gift for a Houston Astros fan, this personalized parking sign is the answer. Whether you customize it with their name or a heartfelt message, this sign becomes a cherished gift that symbolizes their love for the team. Crafted from premium aluminum, it's designed to endure, ensuring it remains a meaningful part of their collection.
While serving as a functional parking sign, it's also a declaration of team allegiance. Whether they're reserving a special spot at home or displaying it at the ballpark, this sign proudly announces their dedication to the Astros. Personalization adds a unique touch to this practical fan gear, making it a memorable gift that stands out.
Display Your Fandom with Pride
The DINOZOZO Houston Astros Aluminum Parking Sign is more than just a sign; it's a proclamation of your unwavering support for the team. The iconic logo, combined with personalized text, enhances any space with Astros pride. Whether it's for your home, fan cave, or as a gift, this sign becomes an essential part of displaying your affection for the team.
From tailgating events to game day celebrations at home, this parking sign becomes a fixture that combines functionality with team spirit. The choice to personalize it makes it an even more significant symbol of your unique connection to the Astros.