DINOZOZO Kansas City Chiefs Tin Sign
Football Team Gift for Fans
Custom Metal Signs
Introducing the DINOZOZO Kansas City Chiefs Tin Sign, the ultimate collectible for devoted Chiefs fans and a superb addition to any football-themed space. This custom metal sign is not just a piece of wall art; it's a statement of your unwavering support for your favorite NFL team. Explore the key features of this product and discover how it can enhance your surroundings or make a fantastic gift for fellow Chiefs enthusiasts.
Show Your Team Spirit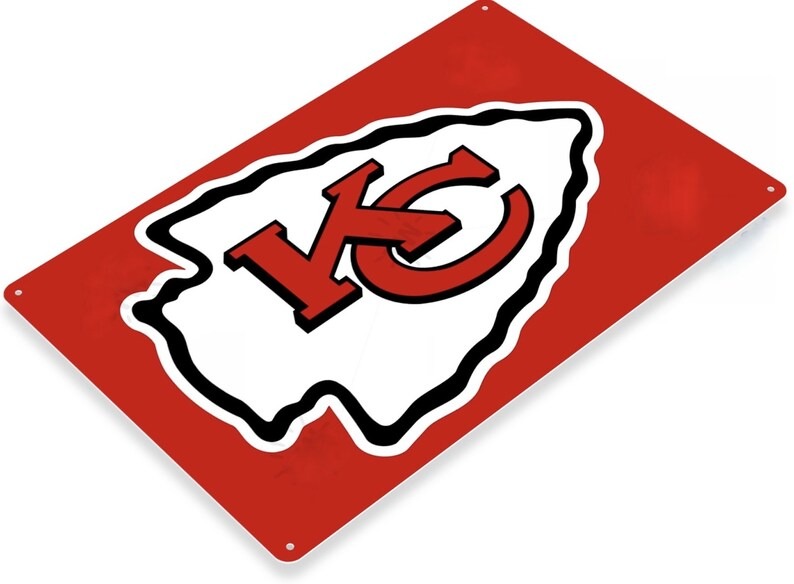 The DINOZOZO Kansas City Chiefs Tin Sign is a proud proclamation of your loyalty to one of the NFL's most iconic teams. Its bold design and vibrant team colors capture the essence of Chiefs football. Hang it in your living room, game room, or fan cave to display your team spirit with pride and enthusiasm.
Customization Available
Personalize your fan space with a custom touch! This sign can be tailored to your preferences. Add your name, a special message, or any text you desire to make it uniquely yours. Whether you're decorating your home, office, or a Chiefs-themed event, this custom sign is a fantastic way to create a more personal connection to your favorite football team.
The Perfect Gift for Chiefs Fans
Looking for the ideal gift for a Kansas City Chiefs enthusiast? Your search ends here! The DINOZOZO Kansas City Chiefs Tin Sign is a thoughtful and meaningful present for birthdays, holidays, or any occasion. It's a genuine piece of NFL memorabilia that will bring a smile to the face of any Chiefs fan and add a touch of team pride to their surroundings.
Ideal for Game Day Gatherings
Make your game day celebrations even more exciting with the DINOZOZO Kansas City Chiefs Tin Sign. Hang it in your sports bar, man cave, or outdoor tailgating area to create an electrifying atmosphere for every Chiefs game. It's the perfect backdrop for memorable moments with fellow fans as you cheer your team to victory.
Elevate your Chiefs fandom to new heights with the DINOZOZO Kansas City Chiefs Tin Sign. Don't miss this opportunity to demonstrate your passion for the team, personalize your decor, and create an unforgettable game day experience. Order now to show your support for the Chiefs in style!