DINOZOZO Personalized Dog Memorial Stake – Saint Bernard Dog
The Personalized Dog Memorial Stake for Saint Bernard Dog is a heartfelt way to commemorate and remember your cherished four-legged companion. These custom metal signs are a lasting tribute designed to provide solace during the challenging times of loss.
Celebrate the Unique Bond with Your Saint Bernard Dog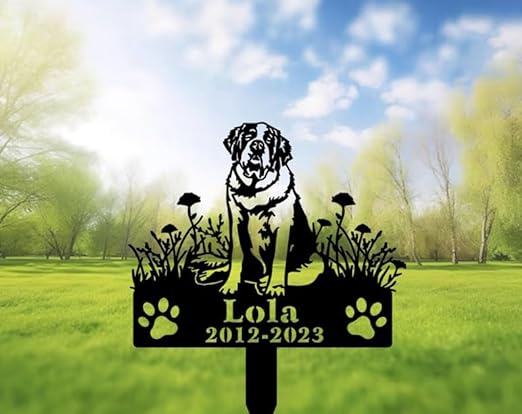 This memorial stake features personalized elements that capture the essence of your special connection with your Saint Bernard. The breed-specific design pays homage to your dog's unique qualities and the love and companionship they brought into your life. You can personalize the sign with your dog's name and important dates, making it a truly special and one-of-a-kind memorial.
Thoughtful Dog Memorial Gifts
Losing a beloved pet is a profound experience, and the Personalized Dog Memorial Stake offers a way to express your love and devotion to your Saint Bernard. These custom metal signs can also be a considerate gift to provide comfort and support to friends and family who are going through a similar loss. Crafted from durable materials, these memorial stakes are built to withstand outdoor conditions, ensuring they remain a lasting tribute to your cherished Saint Bernard.