DINOZOZO Personalized Dog Memorial Stake – Poodle Dog (Version 1)
The Personalized Dog Memorial Stake for Poodle Dog (Version 1) is a heartfelt way to commemorate the life and memory of your beloved Poodle. These custom metal signs offer a personalized and enduring tribute, bringing comfort during times of loss.
Celebrate Your Poodle Dog's Unique Legacy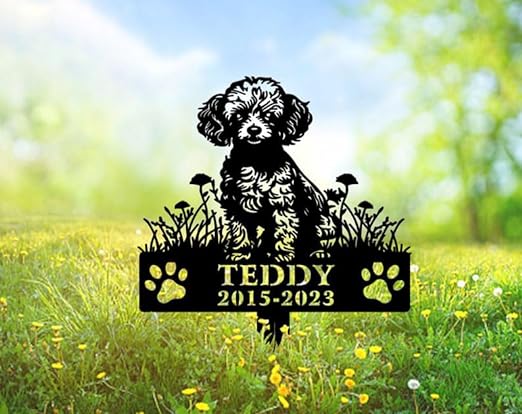 This memorial stake features a personalized design that celebrates the distinctive qualities of your Poodle. The breed-specific design captures the essence of your dog, and you can customize it with your Poodle's name and significant dates. This personalization creates a truly unique and meaningful memorial for your cherished pet.
Thoughful Dog Memorial Gifts
Losing a beloved pet can be a profound experience, and the Personalized Dog Memorial Stake provides a meaningful way to express your love and devotion to your Poodle. These custom metal signs also make thoughtful gifts, offering solace and support to friends and family coping with a similar loss. Crafted from durable materials, these memorial stakes are designed to withstand outdoor conditions, ensuring they remain a lasting tribute to your cherished Poodle.