DINOZOZO Personalized Dog Memorial Stake
Great Pyrenees Dog Grave Marker – Dog Memorial Gifts Custom Metal Signs
Remember your cherished Great Pyrenees with a personalized memorial stake. This custom metal sign serves as a loving tribute to your faithful companion. Discover how you can create a lasting memorial in honor of your beloved pet.
In Loving Memory of Your Great Pyrenees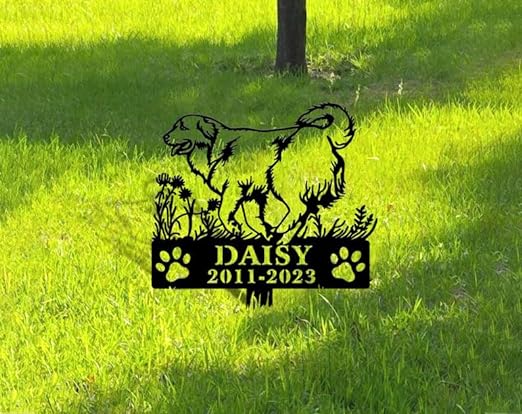 Your Great Pyrenees meant more to you than just a pet; they were a treasured member of your family. This personalized memorial stake captures the essence of your dog's spirit, celebrating the joy, loyalty, and unwavering love they brought into your life.
Customized with Your Dog's Name
Make this memorial truly special with personalized options. Include your Great Pyrenees' name, significant dates, or a heartfelt message. Personalization ensures that this memorial is a perfect reflection of your Great Pyrenees and provides a comforting presence in your garden or outdoor space.
A Beautiful Tribute in Your Garden
This memorial stake is designed to enhance your garden or outdoor area. It's a beautiful way to create a serene and meaningful spot for reflection. Whether placed beside a favorite tree, in a flower bed, or any other chosen location, this memorial stake brings comfort and remembrance.
Memorial Gifts for Dog Lovers
If you're seeking a thoughtful gift for a fellow dog lover who has experienced the loss of their beloved pet, your search ends here. This personalized memorial stake is a touching and heartfelt present. It allows them to remember their faithful friend and find solace in the enduring memory of their Great Pyrenees.
Create a loving tribute to your Great Pyrenees with the DINOZOZO Personalized Dog Memorial Stake. Add personal touches, honor your dog memorial, and establish a serene garden space for reflection. Order this custom metal sign today and cherish the memory of your loyal companion.