DINOZOZO Personalized Dog Memorial Stake – Chihuahua Dog
The DINOZOZO Personalized Dog Memorial Stake for Chihuahua Dog provides a heartfelt way to honor the memory of your beloved furry companion. These custom metal signs enable you to create a personalized and lasting tribute to your cherished Chihuahua, ensuring their legacy lives on in your heart and garden.
Remembering Your Chihuahua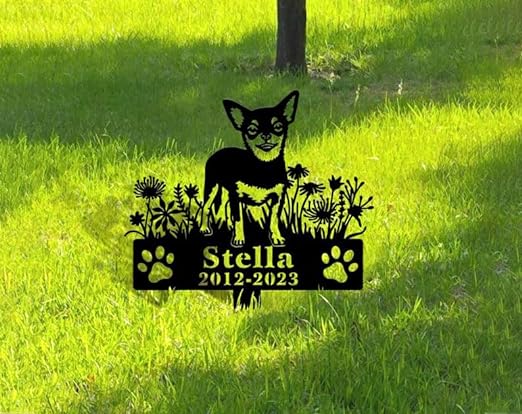 This memorial stake features a distinctive and breed-specific design, capturing the essence of your Chihuahua. Personalization options allow you to include your dog's name and important dates, adding a personal and meaningful touch to the memorial. By customizing this memorial, you create a lasting tribute that beautifully celebrates your treasured pet.
Thoughtful Dog Memorial Gifts
The loss of a pet can be a profoundly emotional experience. The DINOZOZO Personalized Dog Memorial Stake offers a compassionate way to express your love and remembrance for your Chihuahua. These custom metal signs also make thoughtful gifts for friends and family who may be coping with a similar loss. Crafted with durable materials, these memorial stakes can withstand outdoor conditions, making them a lasting tribute to your beloved Chihuahua.
These personalized dog memorial stakes offer a tangible and enduring way to keep your dog's memory alive. Whether you choose to create a personalized memorial in your garden or share these custom metal signs with others, they serve as a lasting reminder of your Chihuahua's presence in your life.