DINOZOZO Personalized Dog Memorial Stake – Border Collie Dog
The DINOZOZO Personalized Dog Memorial Stake for Border Collie Dog offers a special way to remember and honor your beloved canine companion. These custom metal signs allow you to create a personalized and lasting tribute, ensuring your Border Collie's memory lives on in your heart and garden.
Remembering Your Border Collie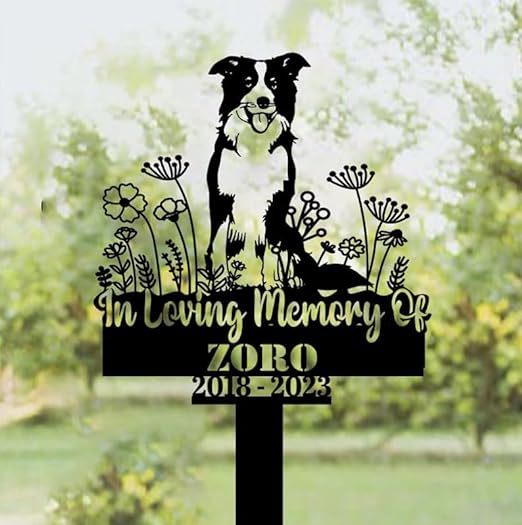 This memorial stake features a unique design tailored to the Border Collie breed, capturing the essence and spirit of your loyal companion. The personalization options enable you to include your dog's name and important dates, adding a personal and meaningful touch to the memorial. By customizing this memorial, you create a lasting tribute that beautifully celebrates your cherished Border Collie.
Thoughtful Dog Memorial Gifts
The loss of a pet can be an emotionally challenging experience. The DINOZOZO Personalized Dog Memorial Stake provides a compassionate way to express your love and remembrance for your Border Collie. These custom metal signs also make considerate gifts for friends and family who may be dealing with a similar loss. Crafted with durable materials, these memorial stakes can withstand outdoor conditions, making them a lasting and heartfelt tribute to your beloved Border Collie.