DINOZOZO Personalized Dog Memorial Stake – Airedale Terrier
The DINOZOZO Personalized Dog Memorial Stake for Airedale Terrier Dog is a heartfelt way to honor and remember a beloved canine companion. These custom metal signs are a lasting tribute to the memory of your cherished dog, offering comfort and solace during a difficult time of loss.
Celebrate the Unique Bond with Your Airedale Terrier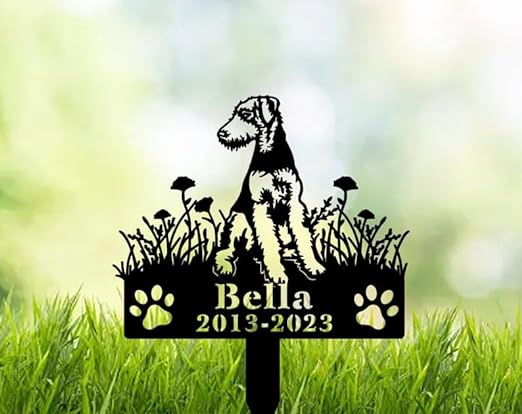 This memorial stake features personalized elements that capture the unique bond you shared with your Airedale Terrier. The breed-specific design pays tribute to your dog's distinctive characteristics and the love and loyalty they brought into your life. The custom text allows you to personalize the sign with your dog's name and meaningful dates, making it a truly unique and special memorial.
Thoughtful Dog Memorial Gifts
Losing a pet can be a deeply emotional experience. These personalized dog memorial stakes offer a way to express your love and devotion to your Airedale Terrier. They also make for thoughtful gifts to offer solace and sympathy to friends and family dealing with a similar loss. These custom metal signs provide a tangible memory of your dog's presence in your life.
Made from durable materials, these memorial stakes are designed to withstand outdoor conditions, ensuring they remain a lasting tribute to your beloved Airedale Terrier. Their personalized design helps keep the memory of your dog alive and well in your heart and in your outdoor space.