DINOZOZO Philadelphia Phillies Tin Sign
Baseball Gift for Fans Custom Metal Signs
Introducing the DINOZOZO Philadelphia Phillies Tin Sign – a perfect addition to your Phillies fan collection. This custom metal sign is a fantastic way to showcase your love for the Phillies in a personalized and unique manner. Explore more about this remarkable product and how it can elevate your fan experience.
Customize Your Fan Space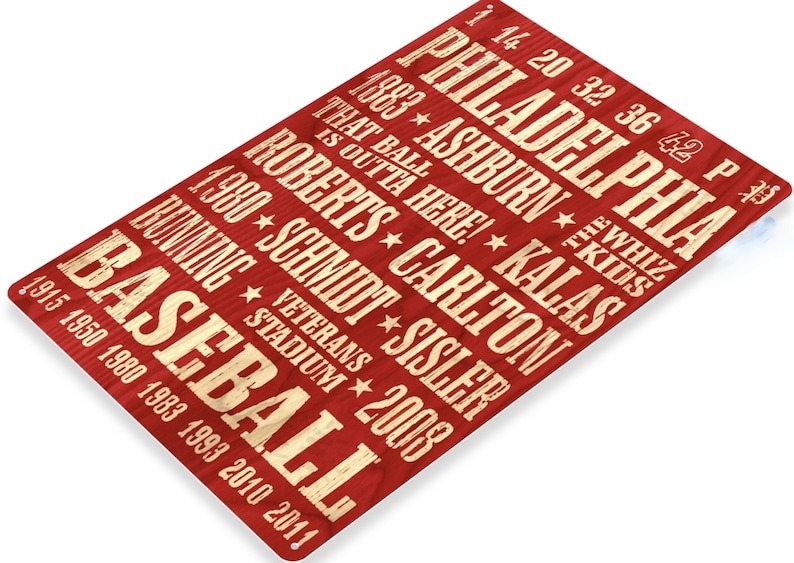 The DINOZOZO Philadelphia Phillies Tin Sign provides you with the opportunity to personalize your fan space. Add your name, a special message, or any text that represents your unwavering support for the Phillies. Whether it's your den, sports room, or any area dedicated to your beloved team, this sign will become a standout piece that reflects your passion for the Philadelphia Phillies.
Celebrate Phillies Baseball
This custom metal sign is the ultimate way to celebrate Phillies baseball. Whether you're a die-hard fan, a season ticket holder, or just someone who appreciates the sport, this sign serves as a vibrant symbol of your allegiance. Its unique design and personalized touch make it a centerpiece that embodies the spirit of the Philadelphia Phillies.
The Ideal Gift for Phillies Fans
On the hunt for the perfect gift for a Phillies fan? Look no further! This personalized metal sign is an excellent choice for birthdays, holidays, or any special occasion. A customized Phillies sign is a heartfelt gesture that conveys your appreciation for their dedication to the team and adds a personal touch to their Phillies memorabilia collection.
Express your love for the Philadelphia Phillies and commemorate their achievements in baseball with this custom metal sign. Don't miss the opportunity to make a personal statement about your devotion to the Phillies. Place your order today and let your fan pride shine!