DINOZOZO Pittsburgh Steelers Aluminum Parking Sign
Football Signs Gift for Fans – Custom Metal Signs
Introducing the DINOZOZO Pittsburgh Steelers Aluminum Parking Sign, a must-have for dedicated football fans. This custom sign is meticulously crafted from high-quality metal and is an excellent choice for showcasing your allegiance to the Pittsburgh Steelers or for surprising fellow Steelers enthusiasts. Let's explore what makes this sign a fantastic selection for expressing your Steelers pride and for crafting personalized fan memorabilia.
Your Custom Fan Decor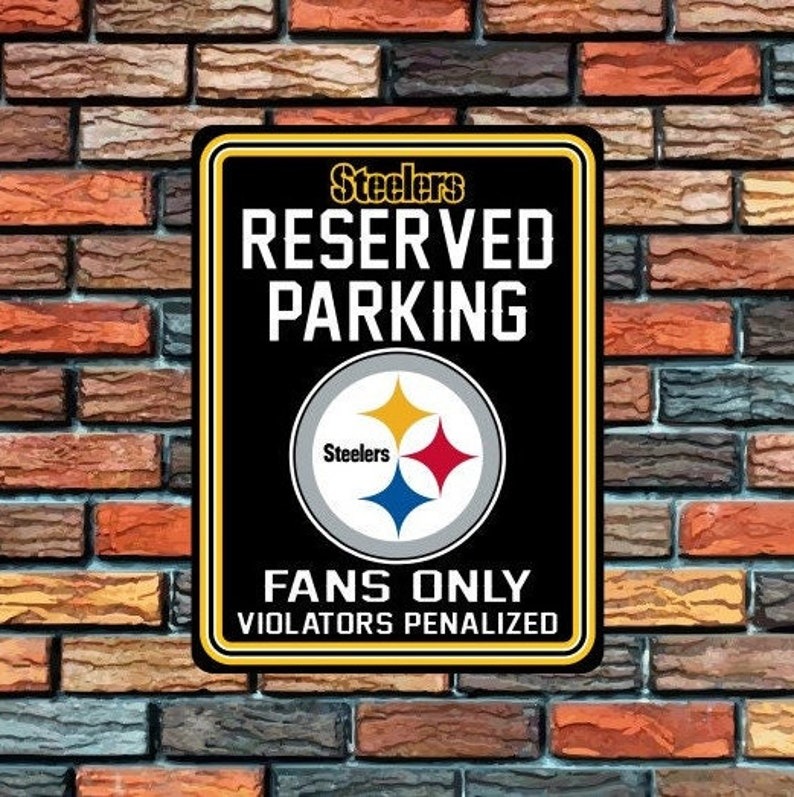 The DINOZOZO Pittsburgh Steelers Aluminum Parking Sign comes with a professionally designed Steelers logo, making it the perfect decoration for your fan cave, garage, or any location of your choosing. What sets it apart is the option for customization. You can add your name, a special message, or any text that holds significance to you, transforming it into a one-of-a-kind fan decor piece that represents your devotion to the team and your unique fan identity.
The Ultimate Gift for Steelers Fans
When you're seeking the ideal gift for a Pittsburgh Steelers fan, this personalized metal sign is a brilliant choice. Whether it features their name or a heartfelt message, this sign becomes a cherished gift symbolizing their strong connection to the Steelers. Crafted from sturdy metal, it's built to endure, ensuring it remains an integral part of their fan memorabilia collection.
Show Your Steelers Spirit
The DINOZOZO Pittsburgh Steelers Aluminum Parking Sign is more than just a decorative piece; it's a bold declaration of your unwavering support for the Steelers. The professional design coupled with personalized text elevates your space with Steelers spirit, whether it's displayed in your fan cave, garage, or any place of your preference. It adds both style and team pride, enhancing your surroundings and making game days even more special.
Don't miss the opportunity to make a personalized statement about your dedication to the Pittsburgh Steelers. Order your custom metal sign today and let your Steelers loyalty shine!