DINOZOZO San Diego Padres Tin Sign
Baseball Team MLB Gift for Fans Custom Metal Signs
Introducing the DINOZOZO San Diego Padres Tin Sign, a tribute to the esteemed baseball team from sunny San Diego. This custom metal sign is a unique fusion of art and fandom, offering you the opportunity to display your support for the Padres while adding a personal touch to your space. Explore the exceptional features of this product and learn how it can elevate your fan experience.
Customize Your Fan Space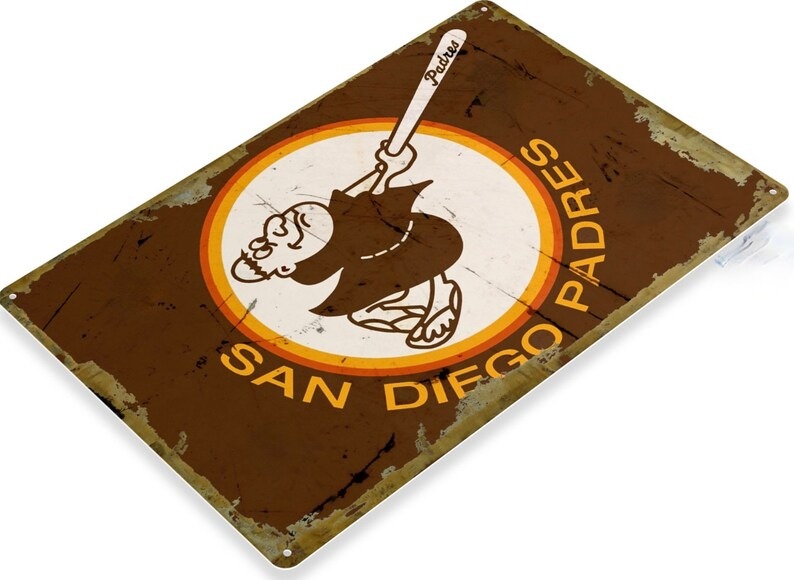 The DINOZOZO San Diego Padres Tin Sign empowers you to transform your fan space into a personalized sanctuary of your passion. You can incorporate your name, a special message, or any text you desire, making it one-of-a-kind. Whether it's your living room, office, or your sports haven, this sign will serve as a centerpiece that underscores your unwavering Padres devotion.
Celebrate Padres Baseball
More than a decorative piece, this custom metal sign is a celebration of Padres baseball. Whether you're a die-hard fan, a proud San Diegan, or just an admirer of the game, this sign will become the embodiment of the spirit of the San Diego Padres. Its unique design and personalized touch make it a treasured item that reflects your allegiance.
The Perfect Gift for Padres Fans
Are you searching for the ideal gift for another Padres enthusiast? Look no further! This customized Padres metal sign is a superb choice for birthdays, holidays, or special occasions. A personalized Padres sign is a heartfelt way to convey your admiration for their dedication to the team and introduce a personal element to their San Diego memorabilia collection.
Show your love for the San Diego Padres and honor their illustrious baseball heritage with this custom metal sign. Don't miss the opportunity to make a personal statement about your Padres devotion. Place your order today and let your fan pride shine!