Dirt Bike With Wings Grave Marker Metal Garden Stakes: Honoring a Fearless Dirt Bike Rider
Are you in search of a meaningful way to pay tribute to the memory of a beloved dirt bike rider who lived life on the edge and left an unforgettable mark in your heart? Look no further than the Dirt Bike With Wings Grave Marker Metal Garden Stakes. These unique grave markers are designed to celebrate the life of your dear dirt bike enthusiast and provide a lasting remembrance. Let's delve into their features and understand why they are the perfect tribute and sympathy gifts for the loss of a loved one who rode the trails of life with courage, thrill, and a heart full of adventure.
Memorializing a Passionate Rider: Honoring Your Beloved Dirt Bike Enthusiast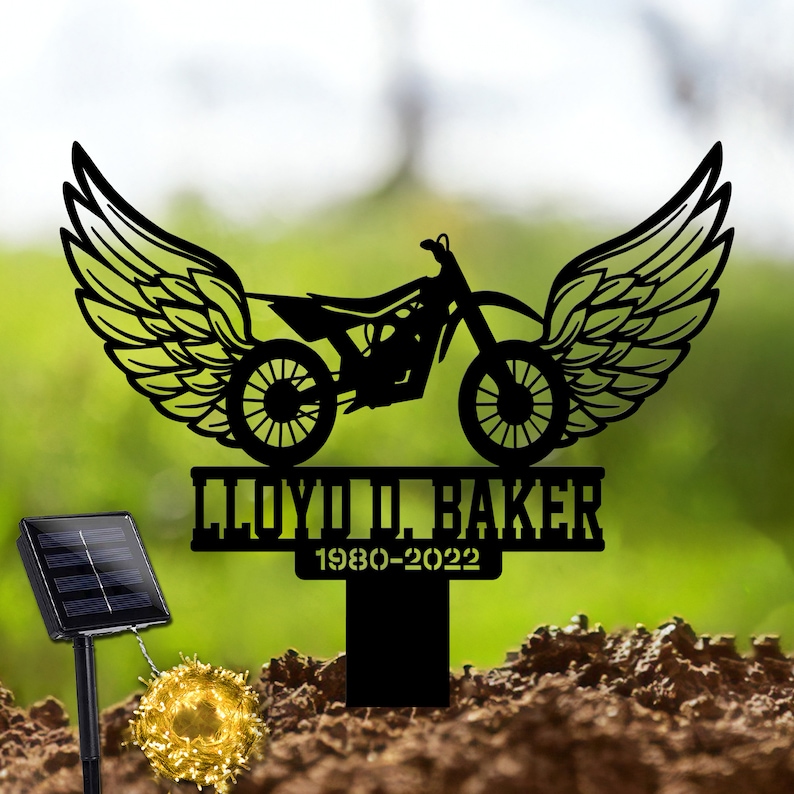 The Dirt Bike With Wings Grave Marker Metal Garden Stakes offer a heartfelt way to create a lasting tribute to your beloved dirt bike rider. These metal garden stakes can be placed at the gravesite or in a garden to commemorate your rider's memory and the exhilarating spirit they embodied.
Featuring a unique design with a dirt bike and wings, these markers provide a beautiful and symbolic remembrance. They serve as a representation of your rider's love for the thrill of dirt biking, their fearless spirit, and their eternal journey to new adventures.
The Perfect Memorial: Tailored for Adventure Seekers
Losing a beloved dirt bike rider is like losing a piece of the adrenaline-fueled adventures and the rush of the open trails. Finding the right way to remember them is essential. The Dirt Bike With Wings Grave Marker Metal Garden Stakes are thoughtfully crafted for those who share a passion for dirt biking and adventure, offering a way to cherish the memories of your daring rider.
These markers provide a heartfelt tribute that captures the essence of your rider's love for the ride, their fearless attitude, and their everlasting spirit. They can also be shared as sympathy gifts with others who are grieving the loss of an adventurous friend or family member, providing comfort and solace during this challenging time.
Crafted with precision and made from high-quality materials, these metal garden stakes ensure durability and a lasting tribute. They are a meaningful and lasting memorial that will provide comfort and warmth to the hearts of those who remember your dirt bike enthusiast.