Eat, Drink, And Be Scary Metal Sign: Witchy Halloween Home Decoration
Indulge in Halloween enchantment with the captivating Eat Drink And Be Scary Metal Sign! This whimsical sign not only adds a touch of witchy charm to your home decor but also sets the stage for a spellbinding Halloween atmosphere. Discover why this metal sign is the perfect choice for embracing the spirit of the season.
Witchy Delight: Embrace the Magic of Halloween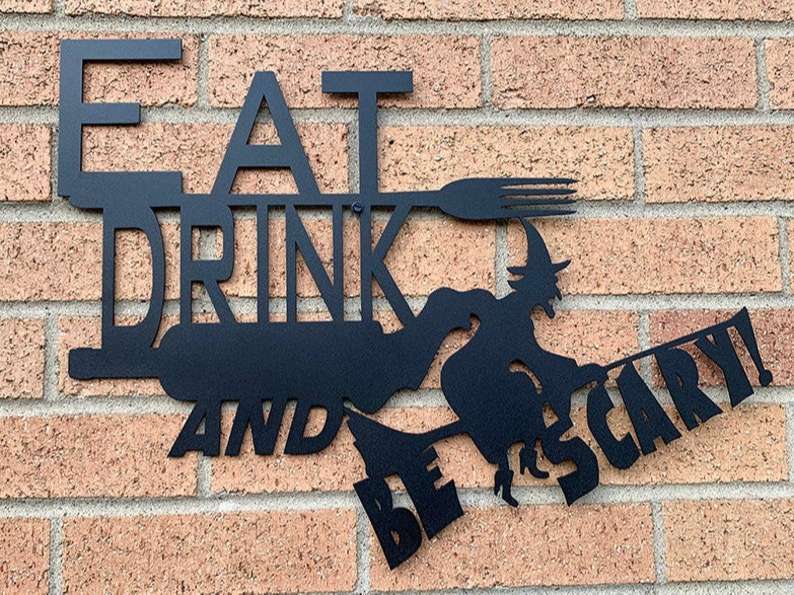 The Eat Drink And Be Scary Metal Sign captures the essence of Halloween with its witch-themed design that exudes a sense of playful spookiness. The words "Eat, Drink, And Be Scary" invite you to revel in the season's festivities, and the imagery of a witch's hat adds a touch of enchantment.
Whether displayed indoors or outdoors, this metal sign becomes a delightful conversation starter, inviting everyone to join in the Halloween merriment. Its charming design and attention to detail evoke the playful and magical aura of the holiday.
Versatile Witchy Decor: Brew Up Some Fun
What sets the Eat Drink And Be Scary Metal Sign apart is its versatility in Halloween decorating. Whether you're hosting a bewitching gathering, creating a whimsical Halloween party, or simply embracing the Halloween spirit, this sign effortlessly enhances your decor.
Hang it in your kitchen or dining area to infuse every meal with a touch of Halloween magic. Let it grace your Halloween-themed wall or become a centerpiece for your witchy table arrangement. Its carefully crafted design and playful charm make it a standout addition to witchy homes, themed events, and any Halloween-loving setting.
The Perfect Witchy Halloween Accent: Join the Fun
When seeking the ultimate witchy Halloween accent, finding something that captures the playful spirit of the season can be a challenge. However, the Eat Drink And Be Scary Metal Sign effortlessly achieves this, making it the perfect choice for adding a touch of witchy charm to your space.
Whether displayed as part of your own decor or shared with fellow Halloween enthusiasts, this metal sign adds a whimsical and inviting touch to the Halloween ambiance. Its charming design and joyful details create an accent that's sure to inspire a bewitching good time.