Eat Drink And Be Scary Metal Sign
Add Spooky Fun to Your Halloween Decor
Get ready to celebrate the spookiest time of the year with the Eat Drink And Be Scary Metal Sign. This Halloween decoration is the perfect way to set a hauntingly delightful ambiance in your home and get everyone in the Halloween spirit.
A Playful Halloween Message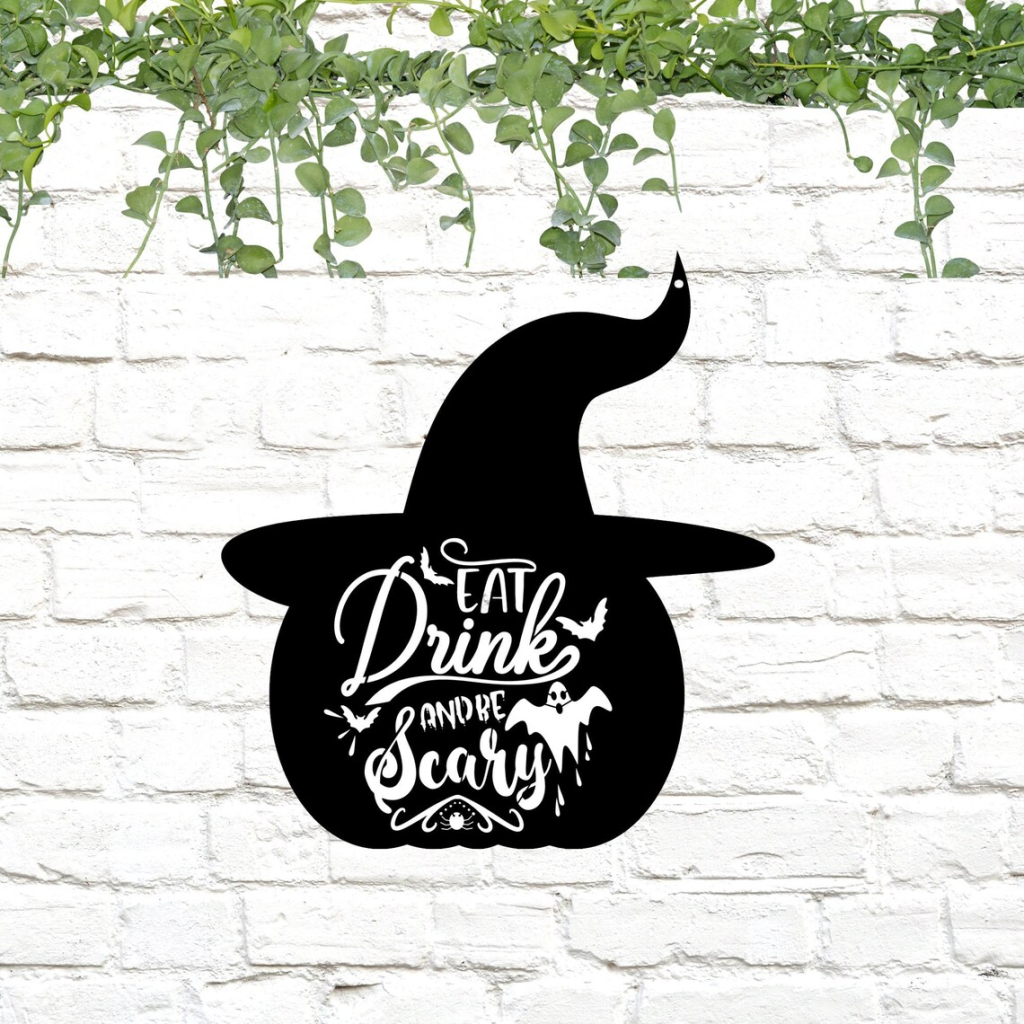 The Eat Drink And Be Scary Metal Sign features a playful and festive Halloween message that will bring a smile to your face. Displaying this sign in your home will remind everyone to enjoy the thrills and chills of the season while indulging in delicious treats and spooky delights.
High-Quality Design
This metal sign is crafted with high-quality materials, ensuring its durability and longevity. Its vibrant colors and intricate design make it a standout piece in any Halloween decor arrangement.
Easy to Display
The Eat Drink And Be Scary Metal Sign comes with pre-drilled holes and mounting hardware, making it easy to display on your walls, doors, or even as part of your Halloween party decorations. You can place it in your kitchen, dining area, or any other spot where your Halloween celebrations take place.
Perfect for Halloween Parties
Whether you're hosting a Halloween costume party or a festive gathering with friends and family, this metal sign adds a delightful touch to your Halloween decorations. It's an excellent prop for photo opportunities and will make your Halloween festivities even more memorable.
A Thoughtful Halloween Gift
Looking for a unique and fun Halloween gift? The Eat Drink And Be Scary Metal Sign is a wonderful choice. Surprise a friend, family member, or Halloween enthusiast with this charming and festive sign that they can display year after year.
Create Spooky Memories
Halloween is a time for making special memories with loved ones. The Eat Drink And Be Scary Metal Sign sets the stage for a night of laughter, scares, and shared moments that will be cherished for years to come.
Final Thoughts
The Eat Drink And Be Scary Metal Sign is the perfect addition to your Halloween decorations. Its playful message, high-quality design, and easy installation make it a must-have for anyone who loves the spooktacular festivities of Halloween. Get ready to eat, drink, and be scary with this delightful metal sign that celebrates the magic of the season.