Floral Football with Wings Grave Marker Metal Garden Stakes
Football is more than just a game; it's a passion, a way of life, and a deep-rooted connection to the field. The Floral Football with Wings Grave Marker Metal Garden Stakes offer a heartfelt way to remember and pay tribute to the memory of a beloved football player. These garden stakes also serve as sympathy gifts, providing comfort and support to those who have lost someone devoted to the game.
Celebrating the Football Player's Legacy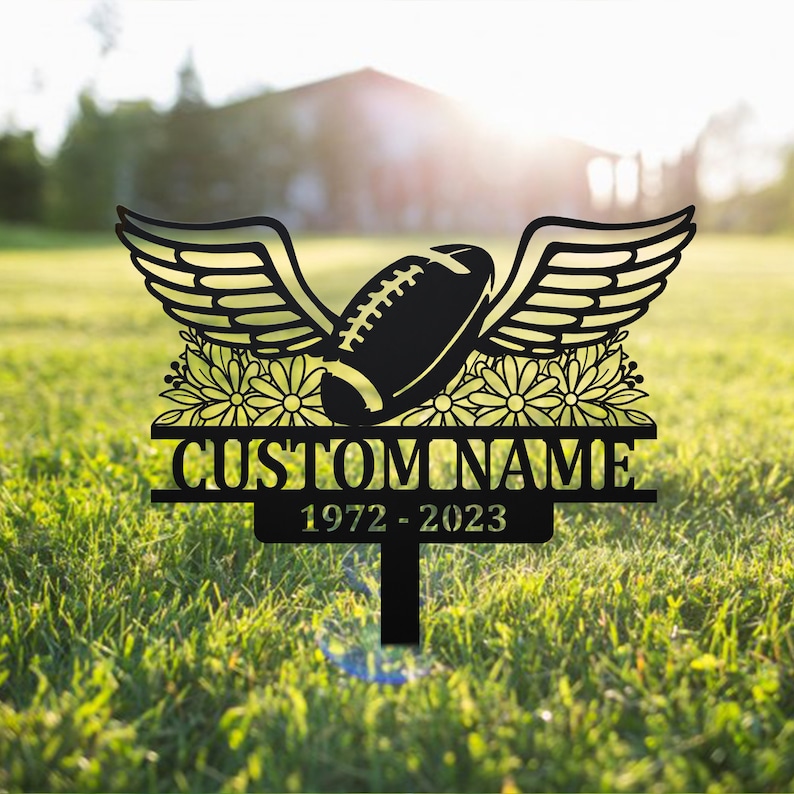 The design of these Metal Garden Stakes features a graceful football adorned with floral accents and angelic wings, symbolizing the enduring love and dedication to the sport. Placing these stakes in a garden or memorial area is a beautiful way to remember and celebrate the unique bond shared with a football player who played the game with passion and commitment.
The Floral Football with Wings Grave Marker Metal Garden Stakes serve as a reminder of the touchdowns scored, the victories achieved, and the camaraderie formed on the football field. These stakes represent the cherished memories of a football player's athleticism, spirit, and love for the game.
Comforting Memorial and Sympathy Gifts
Losing a beloved football player can be a profound loss, and these garden stakes offer a way to express condolences and provide support to those in mourning. By offering these garden stakes as sympathy gifts, you share in the remembrance of someone who dedicated their life to the game.
Crafted with care and durability in mind, these metal garden stakes are designed to withstand the elements, ensuring they remain a lasting tribute to a passionate football player. They serve as a reminder that though a football player may no longer be physically present, their memory lives on in the hearts of those who cherished the game alongside them.
Whether you use these garden stakes to create a personalized memorial for a beloved football player or offer them as sympathy gifts to others who mourn the loss of a sports enthusiast, the Floral Football with Wings Grave Marker Metal Garden Stakes provide a meaningful and compassionate choice. Their depiction of a football with floral details and wings, their strength, and quality craftsmanship make them a fitting tribute to honor and celebrate a football player's dedication to the game and the memories created on the field.