Flying Witch With Cat Metal Sign: The Perfect Halloween Decoration for Home
Get ready to welcome Halloween in style with the captivating Flying Witch With Cat Metal Sign! This delightful sign not only adds a spooky touch to your home decor but also brings a sense of enchantment to any space. Let's explore why this metal sign is the perfect choice for celebrating Halloween.
Whimsical Design: A Hauntingly Charming Welcome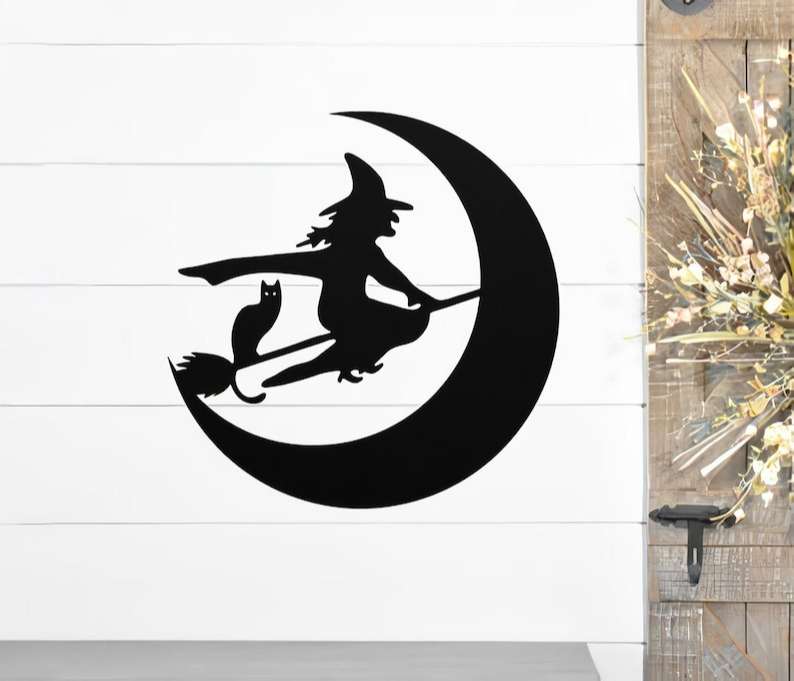 The Flying Witch With Cat Metal Sign boasts a whimsical and haunting design that sets the perfect atmosphere for Halloween. The sight of a flying witch accompanied by her loyal feline companion captures the essence of this magical holiday. This sign becomes an instant focal point, signaling to visitors that your home is ready for some Halloween fun.
Whether you place it on your front porch, in the entryway, or as part of your indoor Halloween display, this metal sign casts a spell of charm that both kids and adults will adore.
Versatile Decor: Elevate Your Halloween Ambiance
What makes the Flying Witch With Cat Metal Sign truly special is its versatility in decorating. Whether you're hosting a Halloween party, welcoming trick-or-treaters, or simply reveling in the Halloween spirit, this sign fits seamlessly into any scenario.
Hang it on your door or wall to create an instant focal point. Let it grace your Halloween-themed mantle or become a centerpiece for your spooky table setting. Its detailed craftsmanship and eerie charm make it an exceptional addition to haunted houses, themed events, and any Halloween-loving home.
The Perfect Halloween Gift: Magic and Whimsy Combined
When searching for the ideal Halloween gift, finding something that captures the enchantment of the season can be a challenge. However, the Flying Witch With Cat Metal Sign offers just that, making it the perfect choice for spreading Halloween joy.
This metal sign's whimsical design and attention to detail evoke the magic of Halloween. It's a delightful gift option for friends, family, or anyone who revels in the spooktacular charm of the holiday. Whether adorning their home during October or becoming a cherished decoration year after year, this sign is a gift that brings a touch of magic to every Halloween.