Get Ready for a Spooktacular Halloween
Welcome the Spirits with the Ghost Happy Halloween Metal Sign
As the leaves change color and the nights grow longer, it's time to welcome the spooky season with open arms. The Ghost Happy Halloween Metal Sign is the perfect addition to your Halloween decor, adding a touch of charm and eeriness to your home. This metal wall art features a friendly ghost with a big grin, ready to spread Halloween cheer to all who cross its path.
A Whimsical and Playful Design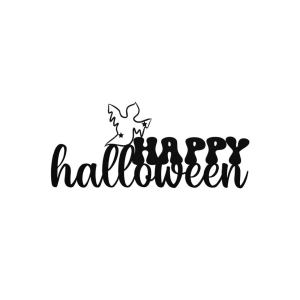 This Halloween sign showcases a whimsical and playful design, making it suitable for both children and adults. The friendly ghost with its cute smile will add a touch of lightheartedness to your Halloween decorations. It's the ideal piece to welcome trick-or-treaters and set a fun and festive tone for your Halloween celebrations.
Quality Craftsmanship
The Ghost Happy Halloween Metal Sign is crafted with meticulous attention to detail and made from high-quality metal. This ensures its durability and longevity, allowing you to enjoy it year after year as a staple in your Halloween decor. Hang it indoors or outdoors, and it will remain a delightful addition to your Halloween festivities.
A Versatile Decoration
Whether you're decorating your front porch, living room, or Halloween party venue, this metal wall art is incredibly versatile. Hang it on your front door to welcome guests, on a wall to create a Halloween gallery, or as a centerpiece for your spooky dessert table. It's the perfect finishing touch to create a hauntingly charming atmosphere.
A Great Halloween Gift
Looking for a bewitching Halloween gift for a friend or family member? The Ghost Happy Halloween Metal Sign makes for a thoughtful and unique present. Spread the Halloween spirit and bring a smile to their face with this delightful metal wall art that captures the essence of this spooktacular season.
Embrace the Halloween Spirit
With the Ghost Happy Halloween Metal Sign, you can embrace the Halloween spirit and add a playful touch to your home. Let this friendly ghost be your guardian as you welcome the spirits and create lasting memories with loved ones. Get ready for a spooktacular Halloween filled with laughter, treats, and delightful decor.
Final Thoughts
The Ghost Happy Halloween Metal Sign is a must-have for anyone who loves Halloween. Its charming design, quality craftsmanship, and versatility make it a standout piece in your Halloween decorations. Embrace the magic of this enchanting season with this friendly ghost and make your home a hauntingly delightful place for all to enjoy.