Golfing In Heaven Grave Marker Metal Garden Stakes
These Golfing In Heaven Grave Marker Metal Garden Stakes offer a touching way to remember and celebrate the life of a dedicated golfer. As memorial gifts, they provide solace and support to those grieving the loss of a beloved golfer, serving as a lasting tribute to their passion for the game.
Celebrating the Golfer's Legacy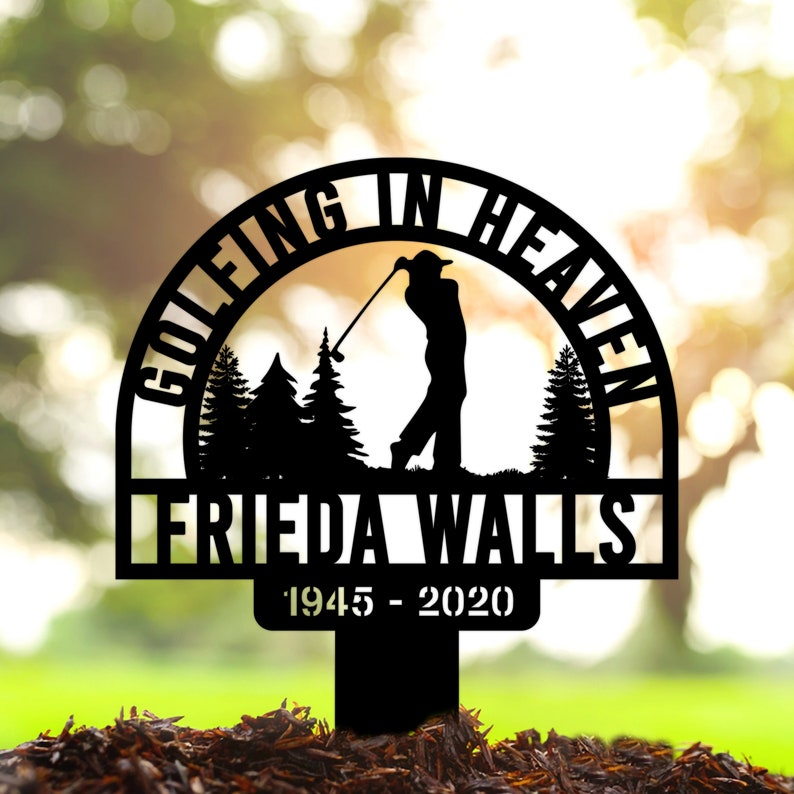 These Metal Garden Stakes feature a design that captures the essence of the golfer's legacy. With golf clubs and a golf ball forming angel wings, they symbolize the deep connection between the golfer and the sport they loved. These stakes stand as a testament to the cherished memories on the golf course and the love for the game.
Heartfelt Memorial and Sympathy Gifts
Grief can be a challenging journey, and offering sympathy and support is essential. These garden stakes, offered as memorial gifts, express your condolences to those mourning the loss of a golfer. They serve as a beautiful reminder of the golfer's passion for the game and the special moments shared on the golf course.
Crafted with durability in mind, these metal garden stakes are designed to withstand the elements, ensuring they remain a lasting memorial. They represent not only the golfer's love for golf but also the enduring memories and connections formed through their time on the fairways and greens.
Whether you choose to create a personalized memorial using these garden stakes or offer them as sympathy gifts to others in need, the Golfing In Heaven Grave Marker Metal Garden Stakes provide a heartfelt way to remember a golfer. Their design, reflecting the golfer's love for the game, makes them a fitting tribute to honor the memories and the passion for golf.