Halloween Gravestone Metal Yard Stake
Add a Spooky Touch to Your Halloween Decor
Get ready to transform your home into a haunted wonderland with the Halloween Gravestone Metal Yard Stake. This eerie and chilling decoration is the perfect addition to your Halloween setup, creating a spooky atmosphere that will send shivers down the spines of your guests and trick-or-treaters.
Creepy Gravestone Design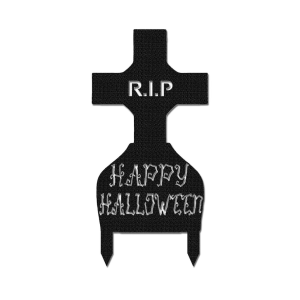 The Halloween Gravestone Metal Yard Stake features a chilling gravestone design that looks like it belongs in a haunted cemetery. The weathered and worn appearance adds to the authenticity, making it a convincing and spine-tingling Halloween decoration.
Durable Metal Construction
Made from high-quality metal, this yard stake is built to withstand the outdoor elements, ensuring that it remains a haunting addition to your Halloween decor year after year. Its sturdy construction ensures that it can withstand wind, rain, and other weather conditions.
Easy to Install
The Halloween Gravestone Metal Yard Stake is designed for easy installation. Simply push it into the ground in your front yard, backyard, or even in a large planter for an instant haunted graveyard effect. It requires no additional tools or complicated setup, making it a hassle-free decoration.
Spooky RIP Signs
The gravestone features chilling RIP signs, enhancing the eerie ambiance of your Halloween decorations. These signs serve as a haunting reminder of the spirits that may be lurking nearby, perfect for setting the mood for a spooky Halloween night.
Versatile Halloween Decor
This metal yard stake is a versatile Halloween decoration that complements various themes. Whether you're going for a haunted house, graveyard, or zombie apocalypse theme, the Halloween Gravestone Metal Yard Stake adds an authentic touch that will impress and frighten all who see it.
Create a Haunting Scene
Combine multiple Halloween Gravestone Metal Yard Stakes to create a haunting graveyard scene. Place them strategically in your yard or garden to give the illusion of an ancient and forgotten burial ground. You can even add some artificial cobwebs and eerie lighting for a truly spine-chilling effect.
Final Thoughts
The Halloween Gravestone Metal Yard Stake is the ultimate Halloween decoration for those who love the thrill of a good scare. Its creepy gravestone design, durable construction, and easy installation make it a must-have for any Halloween enthusiast. Get ready to welcome the spirits and ghosts with this haunting metal yard stake and create a Halloween display that will be the talk of the town!