Halloween Gravestone Yard Stake
Welcome To The Haunted House – Spooky Halloween Decor
Get ready to spook your guests with the Halloween Gravestone Yard Stake – the perfect addition to your Halloween decorations. This eerie and realistic gravestone will set the perfect spooky atmosphere and welcome your visitors to the haunted house.
Realistic Design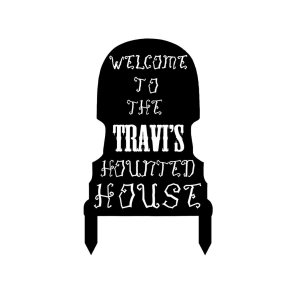 The Halloween Gravestone Yard Stake features a realistic design that resembles an ancient weathered tombstone. The aged look and detailed engravings give it an authentic and haunting appearance, making it an ideal Halloween prop for your home.
Sturdy Yard Stake
Made from durable materials, this gravestone yard stake is designed to withstand outdoor conditions. The sturdy metal stake easily inserts into the ground, ensuring that your Halloween decoration stays securely in place throughout the season, even during windy nights.
Easy Setup
Setting up the Halloween Gravestone Yard Stake is quick and effortless. Simply place the metal stake in your desired location in the yard, and you're ready to welcome guests to the haunted house. It's a hassle-free way to add a touch of spookiness to your outdoor Halloween decor.
Haunted House Vibes
This Halloween gravestone creates the perfect haunted house vibes for your home. Whether you're hosting a Halloween party or just welcoming trick-or-treaters, the gravestone adds an eerie and mysterious ambiance that will leave a lasting impression on your guests.
Versatile Decoration
The Halloween Gravestone Yard Stake is a versatile decoration that can be used in various ways. Use it as a standalone piece in your front yard, or combine it with other spooky props and decorations to create a chilling haunted house scene.
Spooky Photo Opportunity
Your Halloween guests won't be able to resist taking photos next to this eerie gravestone. It provides a perfect backdrop for spooky selfies and adds to the overall Halloween experience for visitors of all ages.
Create Your Haunted House
Pair the Halloween Gravestone Yard Stake with other creepy decorations, such as cobwebs, skeletons, and ghosts, to create a haunted house that will send shivers down the spines of all who dare to visit.
Final Thoughts
The Halloween Gravestone Yard Stake is an essential addition to your Halloween decor collection. With its realistic design, easy setup, and versatile use, it sets the stage for a spooky and memorable Halloween experience. Welcome your guests to the haunted house and immerse yourself in the spirit of the season with this chilling yard stake.