Halloween Pumpkin Metal Sign
Add a Spooky Touch to Your Halloween Decor
Get ready to transform your home into a haunted haven with the Halloween Pumpkin Metal Sign. This eerie and festive sign is the perfect decoration to set the stage for your Halloween celebrations.
Charming Pumpkin Design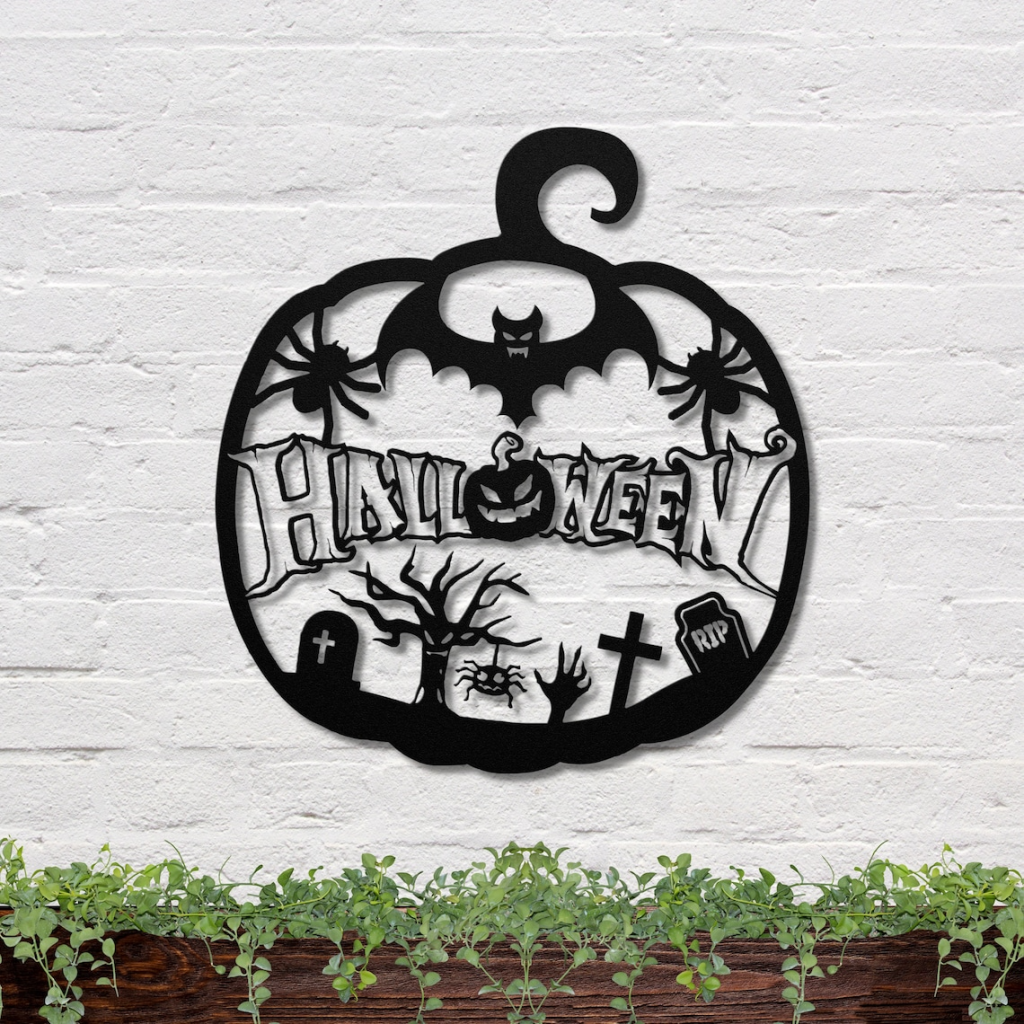 The Halloween Pumpkin Metal Sign features a charming pumpkin design that captures the essence of the season. With its classic Jack-o'-lantern face and eerie glow, this sign is sure to send shivers down your spine in the most delightful way.
Spooky Spider Accent
To add an extra dose of spookiness, the sign is adorned with a spooky spider crawling on the pumpkin. This detail adds a touch of Halloween magic and makes the sign a standout piece in your decorations.
RIP Text for Haunting Vibes
The "RIP" text on the Halloween Pumpkin Metal Sign further enhances its eerie charm. It's as if the pumpkin itself is a resting place for spooky spirits, making it an ideal addition to your Halloween-themed decor.
Sturdy Construction
Made from durable metal, this sign is designed to withstand the elements, making it suitable for both indoor and outdoor use. Whether you hang it on your front porch, in your living room, or by your haunted yard, it will maintain its eerie allure throughout the Halloween season.
Easy Installation
The Halloween Pumpkin Metal Sign comes with pre-drilled holes and mounting hardware, making it a breeze to hang wherever you choose. Within minutes, you can have this spooky piece ready to delight both trick-or-treaters and party guests.
Perfect Halloween Atmosphere
Hang the Halloween Pumpkin Metal Sign on your door, wall, or gate to create the perfect Halloween atmosphere. Its combination of spooky and charming elements will set the mood for your Halloween festivities and add an extra layer of fun to the season.
Spooky Gift Idea
Looking for a unique Halloween gift? The Halloween Pumpkin Metal Sign is a great choice. Share the spirit of Halloween with friends and family by gifting them this hauntingly delightful sign.
Make Your Halloween Unforgettable
The Halloween Pumpkin Metal Sign is a must-have for anyone who loves the spooktacular holiday. Its blend of classic pumpkin design, spooky spider accent, and RIP text makes it a standout piece that will make your Halloween decorations truly unforgettable.
Final Thoughts
Embrace the haunting allure of Halloween with the Halloween Pumpkin Metal Sign. Whether you're hosting a spooky soiree or simply want to add a touch of Halloween charm to your home, this sign will deliver the eerie magic you're looking for. Get ready to welcome trick-or-treaters and guests with this enchanting and mysterious piece of Halloween decor.