Spooky Halloween Spiderweb Metal Sign
Create a Haunting Atmosphere
Get ready to cast a spell of spooky elegance over your Halloween decor with the Halloween Spiderweb Metal Sign. This custom family name sign is the perfect addition to your home to set the stage for a hauntingly beautiful Halloween celebration.
A Customized Touch of Spookiness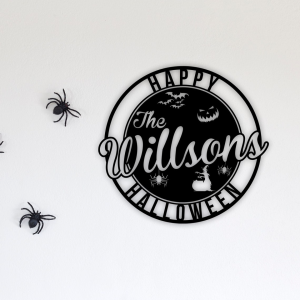 The Halloween Spiderweb Metal Sign is not just any generic Halloween decoration. With the option to add your family name, you can create a truly personalized piece that adds a special touch of spookiness to your home. It's a unique way to showcase your family's Halloween spirit and welcome trick-or-treaters.
Elevate Your Halloween Decor
Designed with intricate spiderweb detailing, this metal sign elevates your Halloween decor to a whole new level. The black finish adds a touch of elegance and complements any Halloween theme, making it a stunning focal point in your home.
Quality Craftsmanship
Crafted from high-quality metal, the Halloween Spiderweb Metal Sign is not only visually striking but also built to last. Its durable construction ensures you can enjoy it for many Halloweens to come, becoming a cherished part of your family's holiday traditions.
Easy to Display
With pre-drilled holes, hanging this metal sign is a breeze. You can display it on your front door, porch, living room wall, or anywhere else you want to add a spooky touch. It's a simple way to make a big impact on your Halloween decor.
A Memorable Halloween Gift
Looking for a unique and thoughtful Halloween gift? Look no further! The Halloween Spiderweb Metal Sign can be personalized for friends or family members, making it a memorable and cherished present that will be appreciated year after year.
Create Your Spooktacular Halloween
Set the stage for a spooktacular Halloween with the Halloween Spiderweb Metal Sign. Pair it with eerie lighting, faux cobwebs, and other Halloween decorations to create a memorable and immersive Halloween atmosphere in your home.
Final Thoughts
Whether you're hosting a Halloween party or simply want to embrace the spirit of the season, the Halloween Spiderweb Metal Sign is a must-have decoration. Its custom family name feature, quality craftsmanship, and eerie design make it the perfect centerpiece for your Halloween home decor. Embrace the spooky fun and create lasting memories with this enchanting metal sign.