Halloween Spiderweb Metal Sign
Gothic Signs – Create a Spooky Atmosphere
Add an air of mystery and intrigue to your Halloween decor with the Halloween Spiderweb Metal Sign. This hauntingly beautiful wall art featuring a intricate spiderweb design is the perfect way to infuse your home with a touch of Gothic charm and create an eerie ambiance for the Halloween season.
A Mesmerizing Display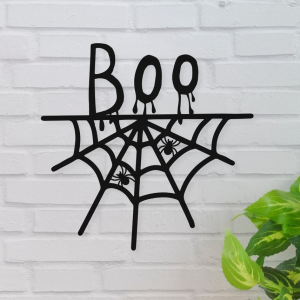 The Halloween Spiderweb Metal Sign is an eye-catching piece that will captivate your family and guests. Its intricate details and unique design make it a standout decoration that is sure to draw attention and spark conversations during your Halloween gatherings.
Durable and Stylish
Crafted from high-quality metal, this spiderweb sign is both sturdy and stylish. Its black finish adds to the Gothic aesthetic and ensures it complements a variety of Halloween decor themes. Whether displayed indoors or outdoors, the sign will add a touch of elegance to your space.
Easy to Hang
The Halloween Spiderweb Metal Sign is designed for easy hanging. It comes with pre-drilled holes, making it a breeze to attach to your walls or doors. Create an impressive focal point by placing it in your entryway, living room, or any area you want to infuse with a spooky vibe.
A Perfect Addition to Your Gothic Decor
If you love Gothic style and Halloween, this metal sign is a must-have addition to your home decor. It perfectly complements Gothic-themed decorations, such as candle sconces, dark wall art, and other macabre elements, creating a cohesive and hauntingly beautiful ambiance.
An Ideal Gift for Gothic Enthusiasts
Looking for a unique and meaningful Halloween gift for someone who appreciates the dark and mysterious? The Halloween Spiderweb Metal Sign is an excellent choice. It's a thoughtful present that showcases your understanding of their tastes and passion for all things Gothic.
Set the Scene for Halloween
Transform your home into a spooky sanctuary with the Halloween Spiderweb Metal Sign. Let it be the centerpiece of your Gothic decor and pair it with eerie lighting, black and white accents, and other haunting decorations to create an unforgettable Halloween atmosphere.
Final Thoughts
Embrace the allure of the Gothic aesthetic and the enchantment of Halloween with the Halloween Spiderweb Metal Sign. Its intricate design, durable construction, and easy display make it an essential element of your Halloween home decor. Whether you're a fan of the macabre or simply want to add a touch of mystery to your space, this metal sign will delight and bewitch all who see it.