Halloween Witch Metal Sign
Creepy Grave Signs – Spook up Your Halloween Decor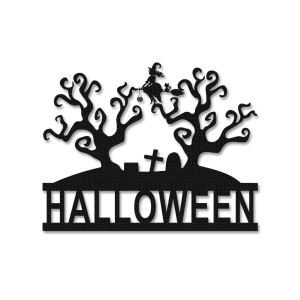 Prepare for a wickedly fun Halloween with the Halloween Witch Metal Sign – a hauntingly beautiful addition to your Halloween decorations. This eerie metal sign features a witch silhouette against a spooky moonlit background, creating the perfect atmosphere for your Halloween festivities.
Charmingly Creepy Design
The Halloween Witch Metal Sign showcases a charmingly creepy design that captures the essence of the season. The witch's silhouette flying on her broomstick against the night sky with the moon and stars will send chills down your spine and delight all Halloween enthusiasts.
Sturdy Metal Construction
Made from high-quality metal, this Halloween witch sign is built to withstand the elements, making it suitable for both indoor and outdoor use. Its durable construction ensures that you can enjoy this spooky decoration for many Halloweens to come.
Easy Hanging
With pre-drilled holes and included hardware, hanging the Halloween Witch Metal Sign is a breeze. You can easily display it on your front door, porch, walls, or even indoors to add a touch of witchy charm to your Halloween home decor.
Versatile Halloween Decor
This witch metal sign is a versatile Halloween decoration that can be used in various ways. Hang it on your front door to welcome trick-or-treaters, place it on a wall to create a spooky focal point, or incorporate it into your Halloween party decor for a bewitching touch.
Spooktacular Photo Backdrop
The Halloween Witch Metal Sign also serves as a spooktacular photo backdrop. Encourage your guests to take selfies with the witch silhouette for a fun and memorable Halloween keepsake.
Create a Bewitching Ambiance
Transform your home into a bewitching haven with the Halloween Witch Metal Sign. Pair it with other Halloween decorations, such as pumpkins, spider webs, and black cats, to create an enchanting and mysterious ambiance for the holiday.
Final Thoughts
The Halloween Witch Metal Sign is a must-have for any Halloween enthusiast. Its creepy yet charming design, sturdy construction, and easy hanging make it a perfect addition to your Halloween home decor. Embrace the spirit of the season and invite the witching hour into your home with this hauntingly beautiful metal sign.