Kansas City Chiefs Printed Metal Sign: The Ultimate Gift for Fans
Show Your Team Spirit with Pride
Are you a die-hard Kansas City Chiefs fan or know someone who bleeds red and gold? Our Kansas City Chiefs Printed Metal Sign is the ultimate must-have for any passionate Chiefs supporter. This metal sign is more than just decor; it's a symbol of unwavering team loyalty and a statement of your love for the game. Let's delve into what makes this metal sign the perfect addition to any Chiefs fan's collection.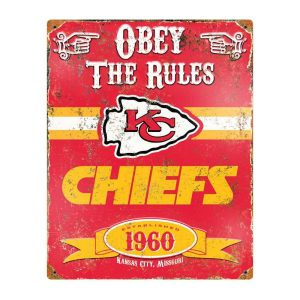 Stunning Design: Celebrate the Chiefs in Style
The design of our Kansas City Chiefs Printed Metal Sign is a true celebration of the team's legacy and success. Featuring the iconic Chiefs logo, bold team colors, and intricate detailing, this sign captures the spirit of the team and adds an element of excitement to any space.
Whether you hang it in your living room, man cave, game room, or even your office, this sign is guaranteed to be a conversation starter and a focal point for fellow Chiefs fans. Its high-quality printing and durable metal construction ensure that the vibrant design remains intact season after season.
The Perfect Gift for Chiefs Enthusiasts
Struggling to find the ideal gift for the Chiefs fanatic in your life? Look no further. Our Kansas City Chiefs Printed Metal Sign is a winning choice for birthdays, holidays, or special occasions. It's a thoughtful and personalized gift that shows you understand and support their passion for the team.
Whether it's for a friend, family member, or colleague, this metal sign is a unique way to make their Chiefs experience even more special. Imagine the joy on their face as they unwrap a piece of memorabilia that proudly displays their team pride.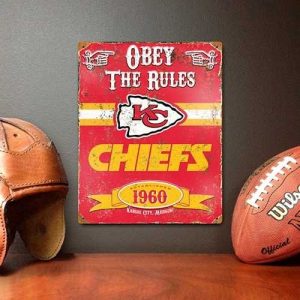 Built to Last, Just Like the Chiefs' Legacy
Like the Kansas City Chiefs' enduring legacy, our Printed Metal Sign is built to withstand the test of time. Crafted from high-quality metal, it's designed to be durable and long-lasting. Hang it indoors to showcase your team spirit year-round, or proudly display it outdoors as a symbol of your unwavering support, rain or shine.
The sign comes with pre-drilled holes and easy-to-follow mounting instructions, making it a breeze to hang and enjoy. Whether you're a lifelong Chiefs fan or someone new to the Kingdom, this metal sign is a fantastic addition that pays homage to the team's storied history and bright future.
Elevate Your Fan Cave with Chiefs Pride
Whether you're looking to upgrade your fan cave or searching for the perfect gift for a Chiefs enthusiast, our Kansas City Chiefs Printed Metal Sign is a game-changing addition. Show your team pride with style, celebrate the Chiefs' victories, and make a statement that will leave no doubt about where your allegiance lies.
Join the Chiefs Kingdom and embrace the excitement and camaraderie that come with being a part of one of the NFL's most passionate fan bases. Elevate your fan cave today and let your Kansas City Chiefs Printed Metal Sign be the rallying point for fellow fans as you cheer your team to victory!