New England Patriots Fan Parking Only: All Others Will Be Punted Away
Declare your allegiance with pride using the New England Patriots Fan Parking Only metal sign. This printed sign not only showcases team devotion but also adds a fun and spirited touch to your space. Let's explore why this Patriots fan parking sign is a must-have for enthusiastic supporters.
Team Spirit On Display: A Statement of Fandom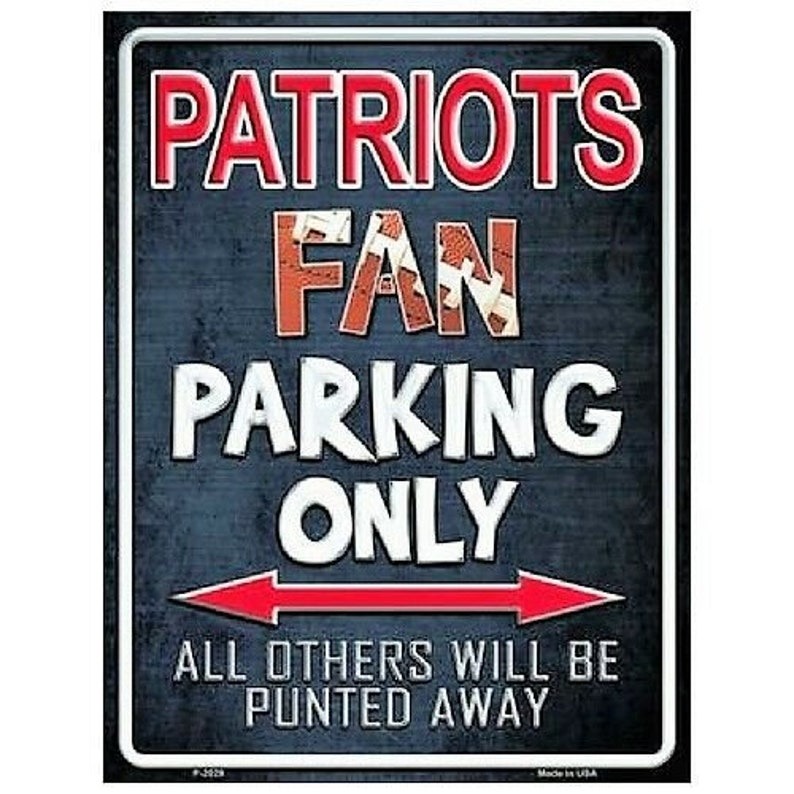 One of the standout features of the New England Patriots Fan Parking Only sign is its ability to boldly display team loyalty. Whether you're designating a parking spot, enhancing a game-day area, or decorating your fan cave, this sign makes a clear statement. With its spirited design, it becomes a focal point of team camaraderie.
For passionate Patriots fans, this sign serves as a proud declaration of their devotion. It adds a sense of unity and excitement to the surroundings, immediately connecting with fellow fans. The New England Patriots Fan Parking Only sign comes in a standard size, ensuring it fits perfectly in your designated parking area or chosen display spot.
The Ultimate Fan Gift: Combining Team Pride and Humor
When it comes to gift-giving, finding something unique and enjoyable can be a challenge. However, the New England Patriots Fan Parking Only sign checks all the boxes, making it a great gift choice for Patriots fans.
This metal sign not only celebrates team spirit but also adds an element of humor. It creates a lighthearted atmosphere while showcasing your dedication to the Patriots. Whether it's for your own space or a gift for a fellow fan, this sign brings a smile and a sense of belonging to the Patriots community.