New York Jets Grilling Zone Classic Metal Sign: Fire Up Your Fan Spirit
Elevate your grilling space into the ultimate New York Jets zone with the New York Jets Grilling Zone Classic Metal Sign! This iconic sign goes beyond being mere decoration; it's a proclamation of your unyielding support for the New York Jets and a mark of your dedicated fan area. Discover why this metal sign is the perfect choice for infusing your grilling space with team pride and celebrating your passion as a Jets fan.
Your Jets Retreat: Showcase Your Fandom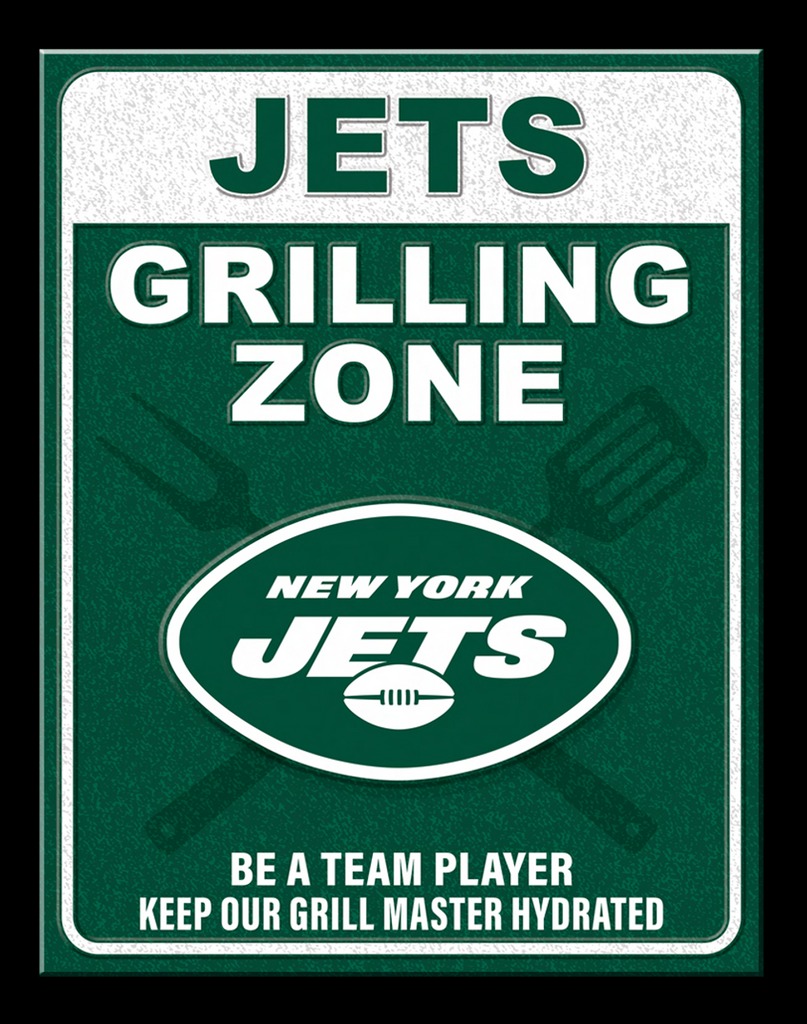 The New York Jets Grilling Zone Classic Metal Sign instantly transforms your grilling area into a Jets retreat. With prominent Jets branding and grill-inspired aesthetics, this sign proudly showcases your allegiance to the team while celebrating your love for football.
As a devoted Jets fan, this metal sign becomes the centerpiece of your grilling space, infusing it with team energy and camaraderie. Its eye-catching design captures the essence of Jets football and serves as a rallying point for fellow fans, creating an atmosphere of shared dedication and team unity.
Grilling Pride: Define Your Fan Area
What sets the New York Jets Grilling Zone Classic Metal Sign apart is its ability to define your grilling area with Jets pride. Whether displayed near your grill, outdoor cooking station, or patio, this sign adds a dynamic touch to your space, turning it into a vibrant fan zone that proudly represents your Jets loyalty.
Show off this iconic sign proudly to infuse your grilling area with the electrifying spirit of New York Jets football. Allow it to define your fan space or serve as a cherished addition to your collection of team memorabilia. Its spirited design and Jets-themed aesthetics make it a standout feature that elevates your fan pride while you enjoy outdoor activities.
Share Your Jets Passion: Building Fan Connections
When seeking a meaningful way to express your Jets passion and connect with fellow fans, finding a symbol that embodies team loyalty is crucial. The New York Jets Grilling Zone Classic Metal Sign accomplishes this effortlessly, making it the ideal choice for celebrating your bond with the team and engaging with other passionate Jets enthusiasts.
Whether displayed prominently in your grilling area, shared with fellow fans, or gifted to a like-minded enthusiast, this metal sign adds a spirited touch to your surroundings. Its dynamic design and Jets-themed charm create an atmosphere that captures the essence of New York Jets football and the joy of connecting with fellow fans.