New York Jets Sports Bar Classic Metal Sign: Uniting Fans in Football Frenzy
Transform your space into the ultimate New York Jets haven with the New York Jets Sports Bar Classic Metal Sign! This iconic sign not only signifies your dedicated sports bar but also unites fans in the exhilarating world of New York Jets football. Explore why this metal sign is the perfect choice for creating a sports bar atmosphere and celebrating the spirited energy of Jets fans.
Creating the Ultimate Sports Bar Vibe: Embracing Football Frenzy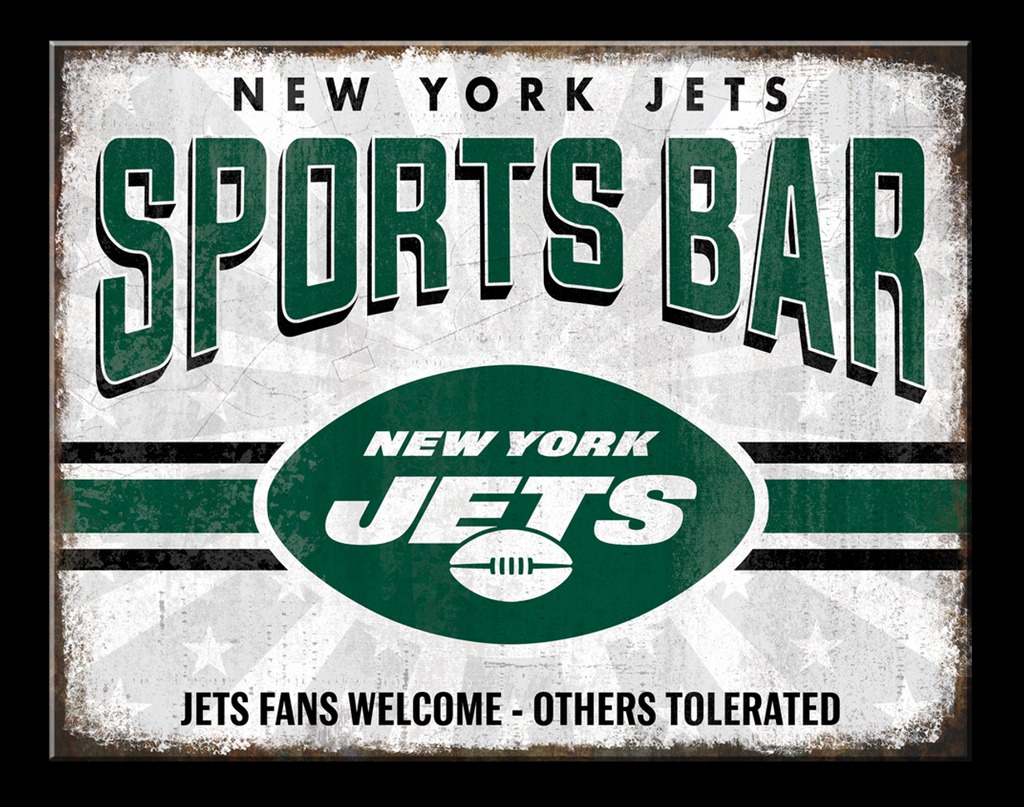 The New York Jets Sports Bar Classic Metal Sign sets the tone for an electrifying sports bar ambiance. With its dynamic design featuring the team name and sports bar aesthetics, this sign ignites the excitement of Jets football and becomes a rallying point for fans to come together.
As a fan, this metal sign becomes the centerpiece of your sports bar experience, welcoming fellow fans and setting the stage for thrilling game days. Its vibrant visuals evoke camaraderie and anticipation, encapsulating the true essence of a sports bar united by the fervor of New York Jets fandom.
Versatile NFL Decor: Elevate Your Sports Bar
What sets the New York Jets Sports Bar Classic Metal Sign apart is its versatility in transforming your space into a vibrant NFL sports bar. Whether displayed prominently on your bar wall, behind the counter, or in your designated sports area, this sign effortlessly elevates the fan experience.
Show off this dynamic sign proudly to infuse your sports bar with the energy of New York Jets football. Let it become the visual centerpiece of your fan haven or a cherished addition to your collection of team memorabilia. Its bold design and spirited aesthetics make it a standout element that ignites the passion of Jets fans gathering for game-day excitement.
The Ultimate Sports Bar Companion: Celebrate Jets Fandom
When seeking to create the perfect sports bar atmosphere that resonates with Jets fans, finding a unifying element can be a challenge. However, the New York Jets Sports Bar Classic Metal Sign effortlessly achieves this, making it the ideal choice for embracing the camaraderie and fervor of Jets enthusiasts.
Whether displayed proudly in your sports bar, shared with fellow fans, or given as a gift to a loved one, this metal sign imparts a spirited touch to their fan experience. Its dynamic design and sports bar charm create an immersive environment that captures the essence of New York Jets football and the excitement of being part of a passionate fan community.