Bat Monogram Metal Sign
Unleash the Spooky Charm with the Bat Monogram Metal Sign
Elevate your Halloween decor game with the enchanting and eerie Bat Monogram Metal Sign. This unique and personalized sign adds a touch of mystique to your home, making it the perfect centerpiece for your Halloween decorations.
Personalized Halloween Accent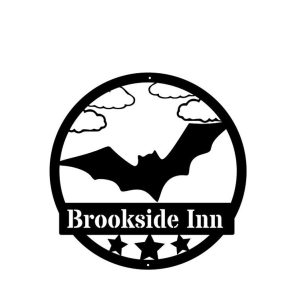 What sets the Bat Monogram Metal Sign apart is its personalized touch. Featuring a stylish monogram design with a bat motif, this sign allows you to showcase your family name or initial in a hauntingly charming way. It's a Halloween accent that's uniquely yours.
Elegance in Spookiness
The intricate bat monogram design combines elegance with a dash of spookiness, making it an ideal addition to your Halloween home decor. Whether you're throwing a Halloween party or simply want to embrace the festive spirit, this sign delivers the perfect blend of style and allure.
Durable Metal Construction
The Bat Monogram Metal Sign is crafted from durable metal, ensuring its longevity even in outdoor settings. Its sturdy build means you can display it on your front door, porch, or any other area you want to infuse with a dose of Halloween charm.
Easy to Hang
Setting up the Bat Monogram Metal Sign is a breeze. It comes with pre-drilled holes and mounting hardware, allowing you to effortlessly hang it wherever you please. In just minutes, you can transform your space into a Halloween haven.
A Unique Halloween Gift
If you're on the hunt for a memorable Halloween gift, look no further. The Bat Monogram Metal Sign makes for a thoughtful and personalized present that your friends and family will treasure for years to come. Spread the Halloween spirit with this unique and stylish gift.
Complete Your Halloween Aesthetic
Pair the Bat Monogram Metal Sign with other Halloween decorations like pumpkins, spiderwebs, and eerie lighting to create a captivating and cohesive Halloween aesthetic. Let your monogrammed bat sign be the focal point that ties your spooky decorations together.
Embrace the Halloween Magic
Embrace the magic of Halloween with the Bat Monogram Metal Sign. Its combination of personalized charm and spooky elegance will immerse you in the festive atmosphere and make your home the envy of all trick-or-treaters.
Final Thoughts
Infuse your Halloween decorations with a touch of elegance and spookiness through the Bat Monogram Metal Sign. Let this personalized and hauntingly captivating sign be the statement piece that elevates your Halloween home decor game. With its durable construction, easy hanging, and unique design, it's an essential addition for anyone who loves celebrating the enchanting allure of Halloween.