Personalized Name Bat Sign – Custom Family Name Metal Signs
Add a Personalized Touch to Your Halloween Decor
Elevate your Halloween decorations this year with the Personalized Name Bat Sign. This custom metal sign allows you to add a unique and personalized touch to your home decor, making your Halloween celebrations even more special and memorable.
Create a Custom Design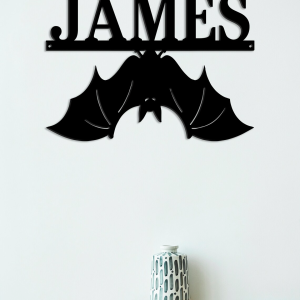 The Personalized Name Bat Sign allows you to customize it with your family name or any text of your choice. This personalization option lets you create a one-of-a-kind Halloween decoration that is uniquely yours. Choose from different font styles and colors to make the sign perfectly match your Halloween theme.
High-Quality Metal
Made from high-quality metal, this Halloween sign is built to last. Its sturdy and durable construction ensures that it will withstand the elements and can be used for many Halloweens to come. Whether you display it indoors or outdoors, the sign will maintain its beauty and charm.
Easy Installation
The Personalized Name Bat Sign comes with pre-drilled holes and mounting hardware, making it easy to hang on your front door, wall, or any other area you want to showcase your custom Halloween decoration. Within minutes, you can have a personalized sign that adds a festive touch to your home.
A Memorable Halloween Gift
Looking for a unique and thoughtful Halloween gift? The Personalized Name Bat Sign is the perfect choice. Surprise your friends or family members with a custom metal sign featuring their name or a special Halloween message. It's a personalized gift that will be cherished for years to come.
The Perfect Halloween Decoration
Whether you're hosting a Halloween party or just want to create a spooky ambiance for trick-or-treaters, the Personalized Name Bat Sign is the ideal Halloween decoration. It adds a touch of personalization and a festive vibe to your home, making it a standout piece in your Halloween decor collection.
Final Thoughts
The Personalized Name Bat Sign is more than just a Halloween decoration; it's a symbol of your unique style and a warm welcome to all who enter your home during this enchanting holiday. With its custom design options, high-quality craftsmanship, and easy installation, this metal sign is a must-have for any Halloween enthusiast. Personalize your space and make a statement with this custom sign that truly represents your love for all things spooky and fun about Halloween.