Personalized Pirate Skull Metal Sign
Embrace the Swashbuckling Spirit of Halloween
Get ready to set sail on a thrilling Halloween adventure with the Personalized Pirate Skull Metal Sign. This custom metal sign brings the daring and mysterious world of pirates right into your home, adding a touch of adventure and excitement to your Halloween decorations.
Pirate Skull Design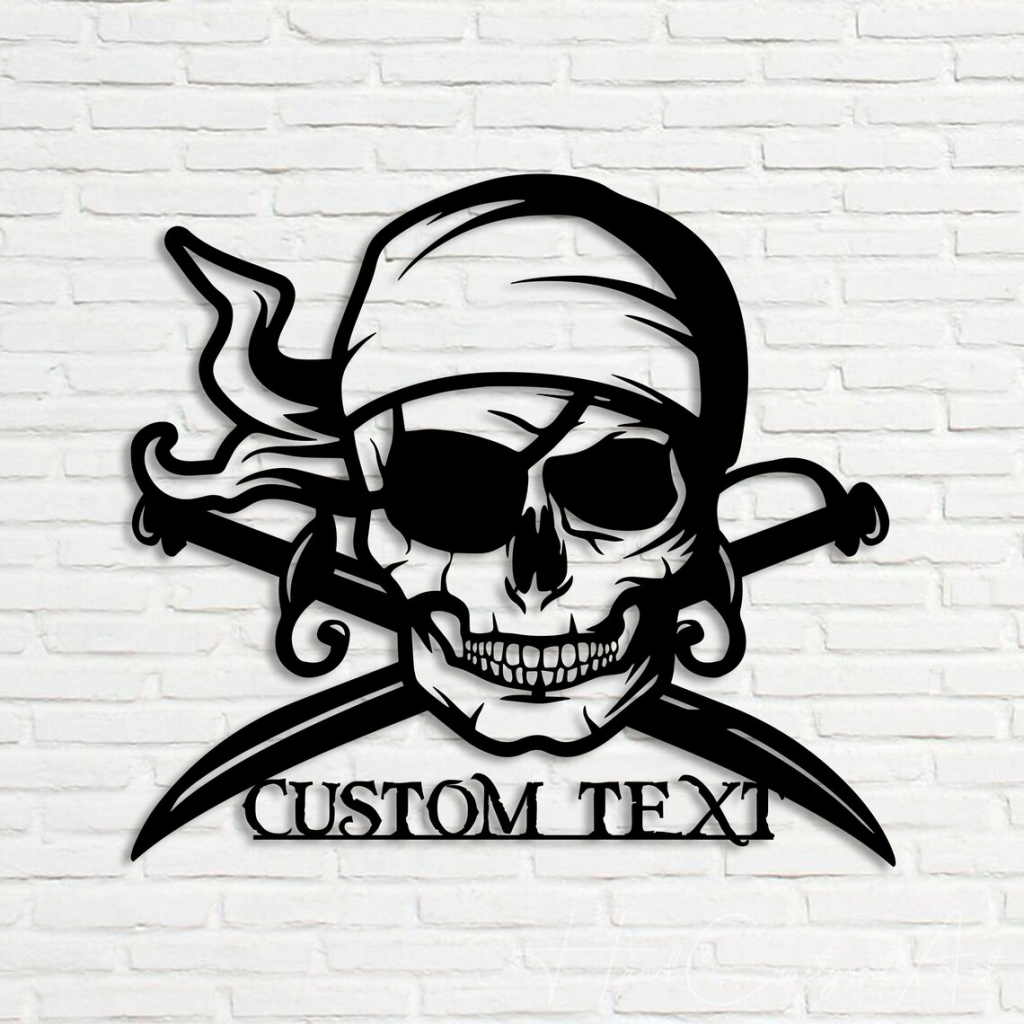 The Personalized Pirate Skull Metal Sign features a menacing and detailed skull of a pirate, complete with an eyepatch and a wicked grin. The skull is surrounded by pirate-themed elements, such as crossed swords and a pirate hat, creating a captivating and swashbuckling design that captures the essence of piracy.
Customize with Your Name
What makes this metal sign truly special is the option to personalize it with your family name. By adding your name to the sign, you create a unique and custom decoration that is exclusively yours. It's a great way to make your Halloween decor even more special and memorable.
High-Quality Metal Construction
Made from high-quality metal, this pirate-themed sign is designed to be durable and long-lasting. Its weather-resistant properties allow you to display it both indoors and outdoors, making it a versatile and reliable decoration for Halloween and beyond.
Easy to Hang and Display
The Personalized Pirate Skull Metal Sign comes with pre-drilled holes and mounting hardware, making it easy to hang and display. Whether you want to hang it on your front door, porch, or in your living room, you can effortlessly add a touch of pirate adventure to your home for Halloween.
A Versatile Halloween Decoration
This metal sign is a versatile Halloween decoration that can be used in various ways. Hang it on your front door to welcome trick-or-treaters, display it in your living room as part of your Halloween party decor, or place it in your backyard to add a swashbuckling atmosphere to your Halloween celebrations.
Complement Your Pirate-Themed Halloween
If you're planning a pirate-themed Halloween party or event, the Personalized Pirate Skull Metal Sign is the perfect addition to your decor. It complements your pirate theme and sets the stage for an unforgettable Halloween adventure on the high seas.
Create Pirate Memories
The Personalized Pirate Skull Metal Sign is not just a decoration; it's a symbol of the daring and adventurous spirit of pirates. It will become a treasured part of your Halloween traditions, creating memories of pirate escapades and Halloween fun for years to come.
Final Thoughts
Embark on a thrilling Halloween journey with the Personalized Pirate Skull Metal Sign. Its pirate-themed design, customizability, high-quality construction, and easy display make it a must-have decoration for Halloween enthusiasts and pirate lovers alike. Bring the spirit of piracy into your home and celebrate Halloween with a swashbuckling twist with this captivating and personalized metal sign.