Personalized Pumpkin Truck Metal Sign
Welcome Fall with Charm and Elegance
As the air turns crisp and leaves start to change, usher in the beauty of autumn with the Personalized Pumpkin Truck Metal Sign. This delightful metal sign welcomes the fall season with open arms and adds a touch of warmth and charm to your home decor.
Customize Your Fall Greeting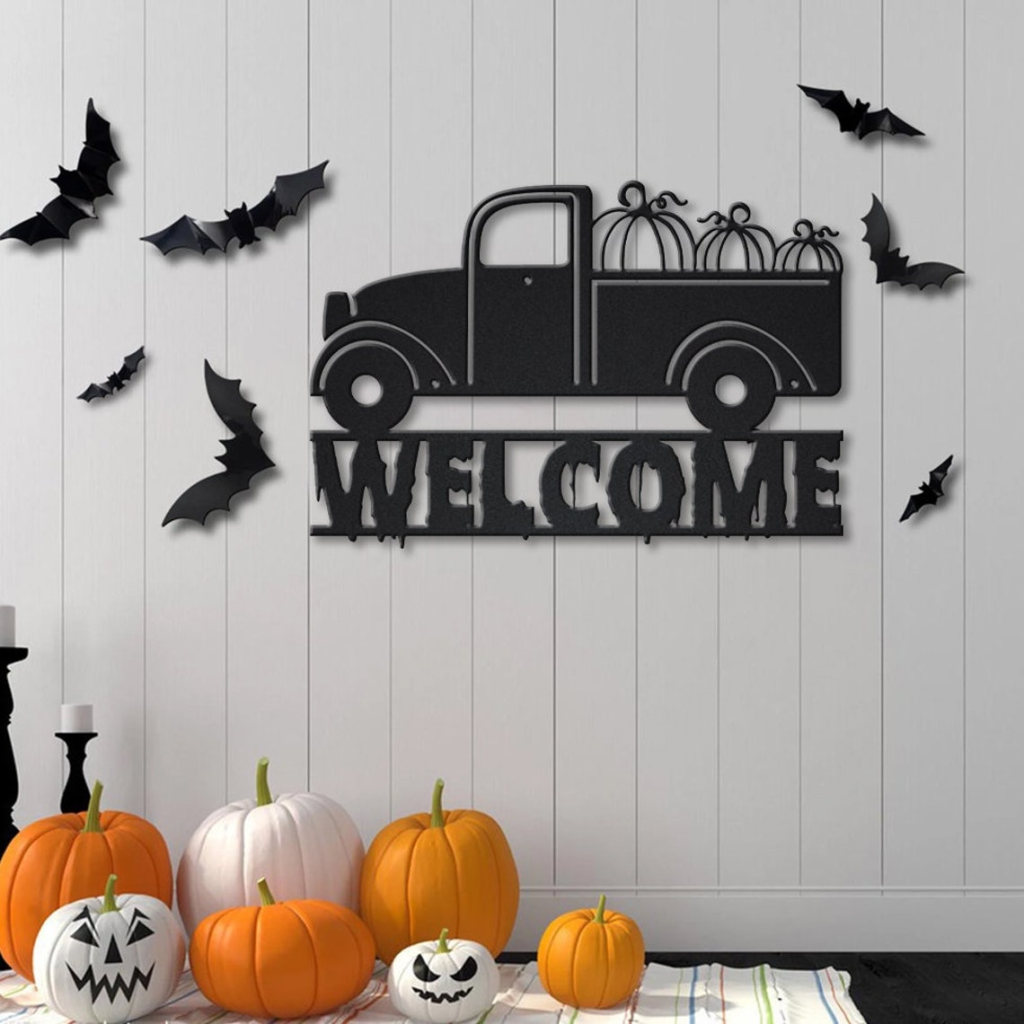 Make this fall decoration uniquely yours by customizing it with your family name, a heartfelt message, or any text that captures the essence of the season. The ability to personalize the sign ensures that it reflects your style and becomes a cherished part of your autumn decor.
Whimsical Pumpkin Truck Design
The metal sign features an enchanting pumpkin truck design that perfectly captures the spirit of fall. The whimsical illustration of a vintage truck carrying pumpkins evokes feelings of nostalgia and the joy of harvest. It's a visual treat that will bring a smile to your face and the faces of all who see it.
Built to Last Through Seasons
Crafted from durable metal, the Personalized Pumpkin Truck Metal Sign is built to withstand the elements, making it suitable for both indoor and outdoor display. Its sturdy construction ensures that you can enjoy its beauty not only during the fall season but for many autumns to come.
Easy Hanging and Display
Don't let complicated installations detract from your enjoyment of the fall season. This metal sign comes with pre-drilled holes and mounting hardware, making it effortless to hang on walls, doors, or entryways. Within minutes, you can have your personalized pumpkin truck sign proudly displayed and ready to welcome the season.
Inviting Atmosphere for Guests
Whether you're hosting a cozy gathering, celebrating Thanksgiving, or simply want to create an inviting atmosphere for family and friends, the Personalized Pumpkin Truck Metal Sign is the perfect choice. Its warm and friendly design adds an extra layer of hospitality and sets the tone for memorable autumn moments.
Thoughtful Fall Gift
Looking for a thoughtful fall gift? Customize this metal sign to create a heartfelt present for loved ones. Whether it's a housewarming gift, a token of appreciation, or simply a way to spread fall cheer, this personalized sign will make a lasting impression.
Celebrate the Beauty of Fall
Embrace the beauty of fall and celebrate the changing seasons with the Personalized Pumpkin Truck Metal Sign. Its charming design and customization options allow you to infuse your home with the spirit of autumn, creating a welcoming and heartwarming environment for all.
Add Whimsy and Warmth to Your Space
The Personalized Pumpkin Truck Metal Sign isn't just a decoration; it's a symbol of the joys of fall. Let it be the focal point of your seasonal decor and bring a sense of whimsy and warmth to your space. Embrace the magic of autumn and make your home a cozy retreat for the season.
Final Thoughts
The Personalized Pumpkin Truck Metal Sign is a delightful addition to your fall decor lineup. With its customizable design, durable construction, and inviting aesthetic, it's the perfect way to welcome the beauty and charm of autumn into your home. Let this sign be a beacon of warmth and joy as you celebrate the season with your loved ones.