Personalized Skeleton Dog And Mom Metal Sign: Whimsical Halloween Home Decoration
Celebrate the bond with your furry friend with the heartwarming Personalized Skeleton Dog And Mom Metal Sign! This custom sign not only adds a touch of whimsy to your home decor but also captures the essence of Halloween's charming allure. Discover why this metal sign is the perfect choice for commemorating your special connection and embracing the spirit of the season.
Spooky Pet Love: Embrace the Bond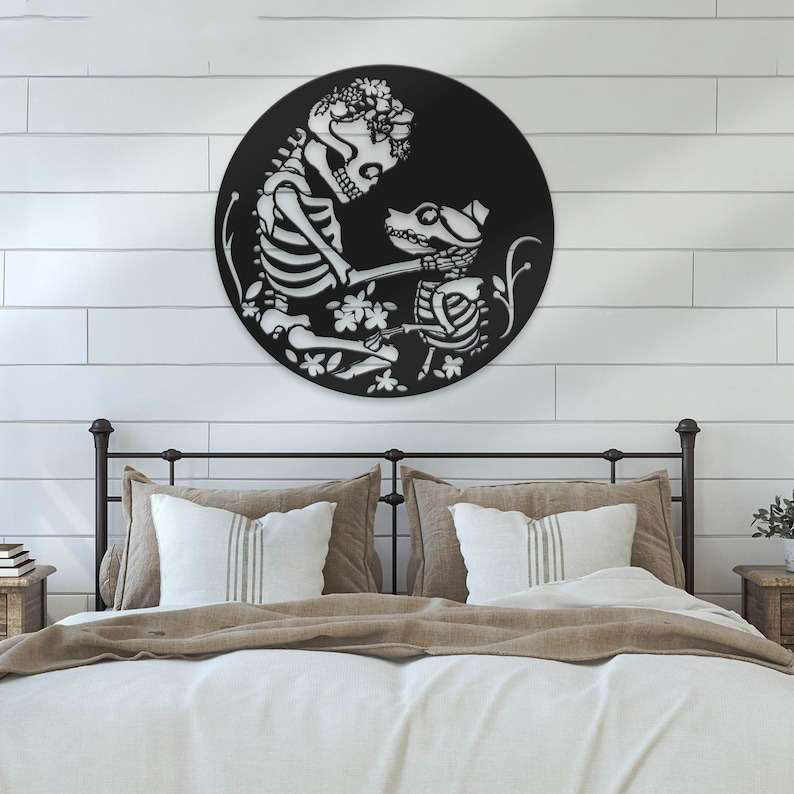 The Personalized Skeleton Dog And Mom Metal Sign captures the essence of Halloween with its design featuring a skeleton dog and its owner. By adding your own personalization to the sign, you create a custom touch that symbolizes your special bond and adds a personal dimension to your Halloween decorations.
Whether displayed indoors or outdoors, this metal sign becomes a conversation starter, drawing attention for its heartwarming depiction of companionship. Its creatively illustrated details evoke a sense of love and camaraderie that resonates with the spirit of the season.
Versatile Whimsical Decor: Celebrate Your Connection
What sets the Personalized Skeleton Dog And Mom Metal Sign apart is its versatility in Halloween decorating. Whether you're hosting a festive gathering, enhancing your Halloween decor with pet-inspired charm, or simply embracing the Halloween spirit as a pet owner, this sign seamlessly enhances your decor.
Hang it on your wall to infuse your space with a touch of heartwarming charm. Let it adorn your Halloween-themed mantle or become a centerpiece for your lovingly arranged table setting. Its carefully crafted design and endearing allure make it a standout addition to homes that cherish the bond between humans and their furry companions, themed events, and any Halloween-loving setting.
The Perfect Custom Halloween Accent: Embrace Your Bond
When seeking the ultimate personalized Halloween accent, finding something that captures your unique bond and the spirit of the season can be a challenge. However, the Personalized Skeleton Dog And Mom Metal Sign effortlessly achieves this, making it the perfect choice for adding a touch of your special connection to your space.
Whether displayed as part of your own decor or shared with fellow Halloween enthusiasts, this metal sign adds a heartwarming and charming touch to the Halloween ambiance. Its spooky pet love design and personalized touch create an accent that's sure to resonate with those who celebrate the bond between pets and their owners.