Personalized Witch Halloween Metal Sign
Get Witchy with Your Halloween Decor
It's that time of the year again – Halloween! And what better way to embrace the spooky season than with the Personalized Witch Halloween Metal Sign. This bewitching decoration will add a touch of magic to your home and get you in the Halloween spirit.
Create Your Own Enchanting Sign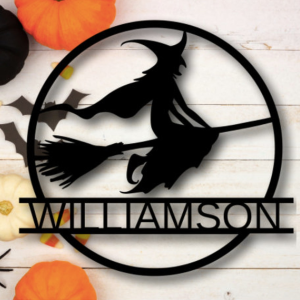 The Personalized Witch Halloween Metal Sign allows you to customize it with your family name or a special Halloween message. Embrace your inner witch and let your creativity fly as you design a sign that perfectly complements your Halloween decor. With its witchy design, it's the ideal addition to your witch-themed decorations.
Premium Quality and Durability
When it comes to Halloween decorations, you want something that will last for many Halloweens to come. This metal sign is crafted with premium materials and attention to detail, ensuring its durability and longevity. Hang it on your front door, wall, or mantel, and it will continue to enchant for years.
A Spellbinding Halloween Atmosphere
As the sun sets and Halloween night approaches, the Personalized Witch Halloween Metal Sign will add an extra dose of charm and mystery to your home. Its witchy vibes will set the stage for a spellbinding Halloween atmosphere, captivating your guests and trick-or-treaters alike.
A Memorable Halloween Gift
Looking for a unique Halloween gift? The Personalized Witch Halloween Metal Sign makes a thoughtful and personalized present. Surprise your friends or family members who love Halloween with a sign featuring their family name or a magical Halloween message. It's a gift they'll cherish and use year after year.
Final Thoughts
Get ready to embrace the magic and mystery of Halloween with the Personalized Witch Halloween Metal Sign. Whether you're hosting a bewitching Halloween party or simply decorating your home for the season, this metal sign will add a touch of enchantment to your space. Customize it to make it uniquely yours and enjoy the spellbinding Halloween festivities with this charming and personalized decoration.