Personalized Witches Welcome Metal Sign: Enchant Your Home for Halloween
Cast a spell of welcome with the charming Personalized Witches Welcome Metal Sign! This enchanting sign not only adds a bewitching touch to your Halloween decor but also invites a sense of mystical hospitality into any space. Discover why this metal sign is the ultimate choice for conjuring up Halloween magic.
Custom Witchcraft: Embrace the Spirit of All Hallows' Eve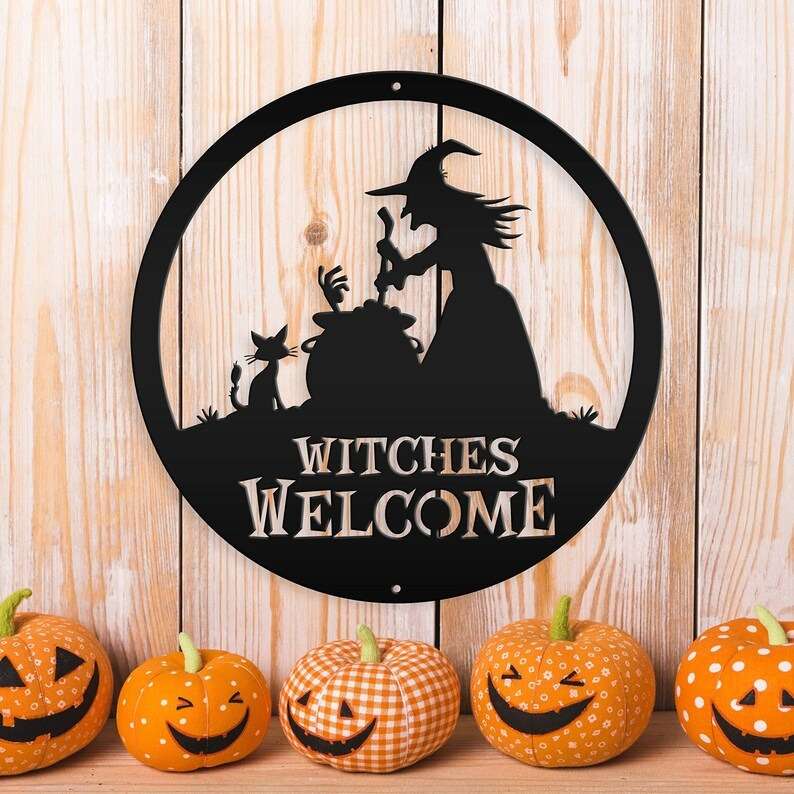 The Personalized Witches Welcome Metal Sign embodies the enchantment of Halloween with its customized design that captures the essence of witchcraft and magic. The sight of witches flying on broomsticks welcomes guests with a touch of whimsy and intrigue, setting the stage for a bewitching experience.
By personalizing this metal sign with your chosen name or message, you create a unique and enchanting decoration that leaves a lasting impression. Whether displayed indoors or outdoors, this sign becomes a conversation starter that adds an extra layer of mysticism to your Halloween atmosphere.
Versatile Charm: Welcome All Into Your Spellbinding Domain
What sets the Personalized Witches Welcome Metal Sign apart is its versatility in Halloween decorating. Whether you're hosting a spooky soiree, transforming your home into a witchy wonderland, or simply embracing the Halloween spirit, this sign effortlessly enhances your decor.
Showcase it on your porch to greet guests with a magical aura. Let it adorn your witch-themed corner or serve as an enchanting centerpiece for your Halloween feast. Its meticulously crafted design and mystical charm make it an exceptional addition to witchy gatherings, themed parties, and any Halloween-loving abode.
The Perfect Personalized Halloween Gift: Unveil the Enchantment
When seeking an unforgettable Halloween gift, finding something that combines personalization with the enchanting allure of the season can be a challenge. However, the Personalized Witches Welcome Metal Sign effortlessly achieves both, making it the ultimate choice for sharing Halloween magic.