Pumpkin Spider Halloween Metal Sign
Add a Spooky and Whimsical Touch to Your Halloween Decor
Get ready to embrace the spirit of Halloween with the Pumpkin Spider Halloween Metal Sign. This unique and eye-catching decoration is the perfect addition to your Halloween setup, adding a spooky and whimsical touch to your home decor.
Charming Pumpkin Spider Design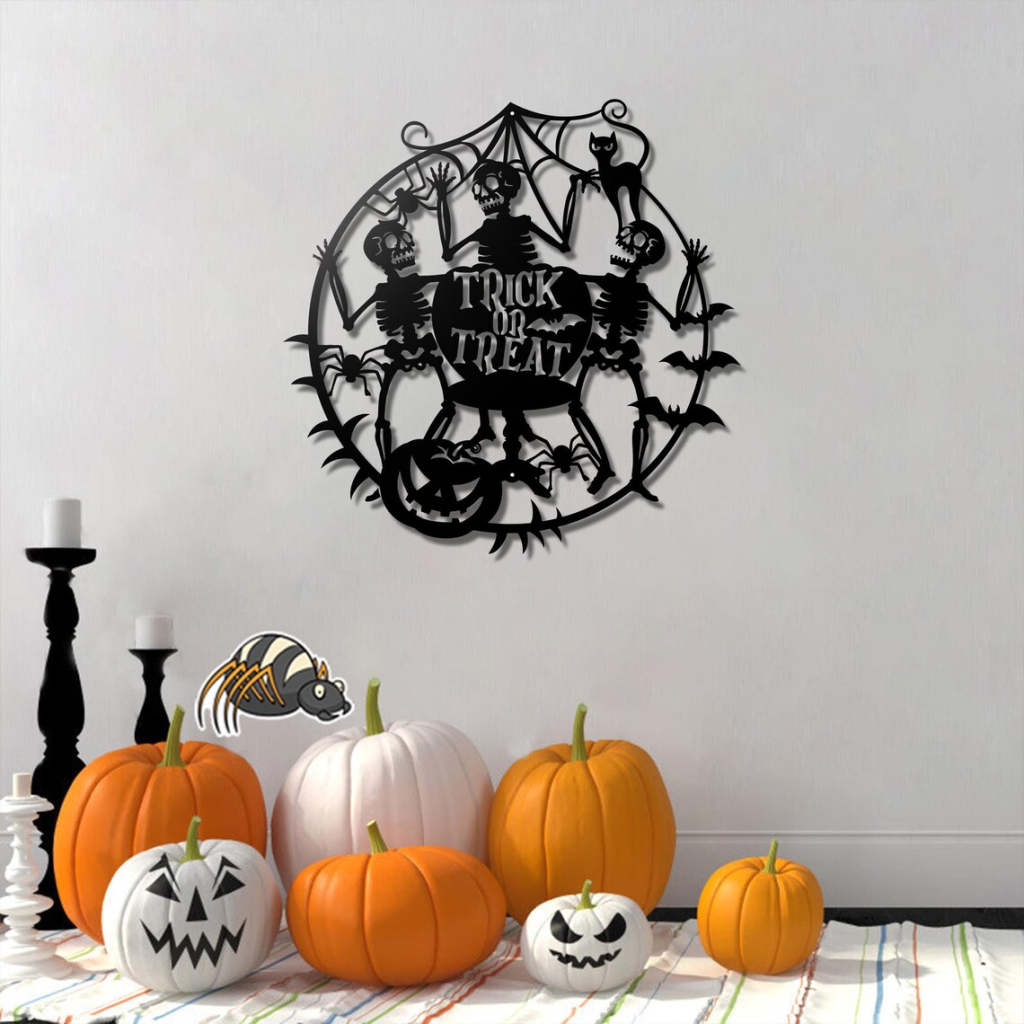 The Pumpkin Spider Halloween Metal Sign features a charming and playful design that combines a classic pumpkin with a spooky spider. The intricate details of the spiderweb and the adorable pumpkin face make it a delightful and fun addition to your Halloween decorations.
Durable Metal Construction
Made from high-quality metal, this Halloween sign is built to last. Its sturdy construction ensures that it can withstand the outdoor elements, making it suitable for both indoor and outdoor use. Whether you hang it on your front door or display it in your garden, it will add a festive touch to your home throughout the Halloween season.
Easy to Hang
The Pumpkin Spider Halloween Metal Sign comes with pre-drilled holes and a hanging rope, making it easy to hang on your front door, porch, or any other place you want to showcase your Halloween spirit. Its lightweight design also allows for easy repositioning and storage after the holiday season.
Spooky Spiderweb Signs
The sign features intricate spiderweb designs that add to the spookiness of the Halloween season. The spiderweb motif creates a captivating visual effect, making it a delightful decoration for both kids and adults alike.
Versatile Halloween Decor
This metal sign is a versatile Halloween decoration that can be used in various ways. Hang it on your front door to welcome trick-or-treaters, display it on your porch to create a festive atmosphere, or use it as part of a larger Halloween display in your home.
Create a Whimsical Halloween Scene
Combine the Pumpkin Spider Halloween Metal Sign with other Halloween decorations, such as pumpkins, witches, and ghosts, to create a whimsical and enchanting Halloween scene. You can even add some fairy lights or orange and purple decorations to enhance the festive ambiance.
Final Thoughts
The Pumpkin Spider Halloween Metal Sign is a must-have for anyone looking to add a touch of charm and spookiness to their Halloween decor. Its adorable pumpkin spider design, durable construction, and easy hanging make it a delightful addition to any home during the Halloween season. Embrace the magic and fun of Halloween with this charming metal sign that will surely bring a smile to the faces of all who see it.