Semi Truck Driver Dad Grave Marker Metal Garden Stakes: Honoring the Memory of a Trucker
Semi truck drivers play a vital role in keeping our world moving, delivering goods to our communities day and night. The Semi Truck Driver Dad Grave Marker Metal Garden Stakes offer a meaningful way to pay tribute to the memory of a dedicated trucker. These garden stakes also serve as sympathy gifts, providing solace and support during times of loss.
Celebrating the Trucker's Journey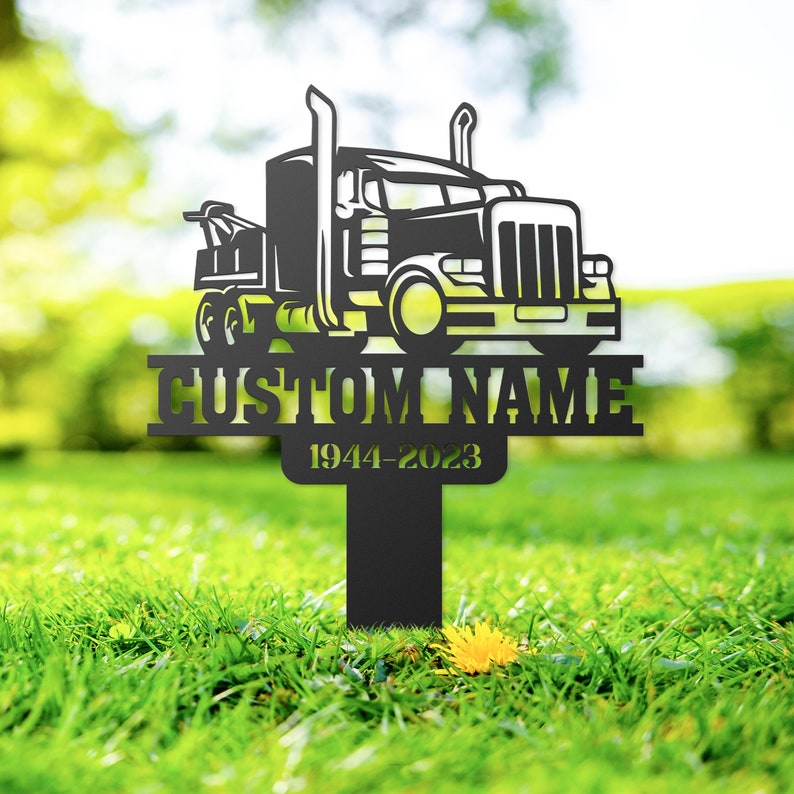 The design of these Metal Garden Stakes features a semi truck, symbolizing the trucker's tireless journey on the open road. These stakes stand as a lasting testament to the trucker's commitment to their profession, their dedication to their family, and their important role in the transportation industry. Placing these markers in a garden or memorial area is a heartfelt way to remember and celebrate their legacy as a trucker.
The Semi Truck Driver Dad Grave Marker Metal Garden Stakes serve as a reminder of the trucker's hard work, sacrifice, and the love they had for their family. They represent the cherished memories of a trucker's long hours on the road, the adventures they had, and the impact they made on the lives of those they cared for.
Comforting Memorial and Sympathy Gifts
Losing a beloved trucker is a significant loss, and these garden stakes are not just a tribute; they are also a gesture of sympathy and support. By offering these garden stakes as gifts, you extend your condolences and share in the remembrance of someone who dedicated their life to a life on the road.
Crafted with care and durability in mind, these metal garden stakes are built to withstand the elements, ensuring they remain a lasting tribute. They serve as a reminder that the trucker's journey may have come to an end, but their legacy lives on in the memories of those who knew and loved them.
Whether you use these garden stakes to create a personalized memorial for a beloved trucker or offer them as sympathy gifts to others who mourn the loss, the Semi Truck Driver Dad Grave Marker Metal Garden Stakes provide a meaningful and poignant choice. Their depiction of the iconic semi truck, their strength, and quality craftsmanship make them a fitting tribute to honor and celebrate a life dedicated to trucking and family.