Set the Mood with a Spooky Moon Halloween Metal Sign
Add Witchy Vibes to Your Halloween Decor
Get ready to enchant your guests and trick-or-treaters with the Spooky Moon Halloween Metal Sign. This witchy Halloween outdoor decor will cast a spell on your home and set the perfect eerie ambiance for a bewitching Halloween night. Embrace the magic of the season and add a touch of spooky sophistication to your outdoor space.
Create a Hauntingly Beautiful Display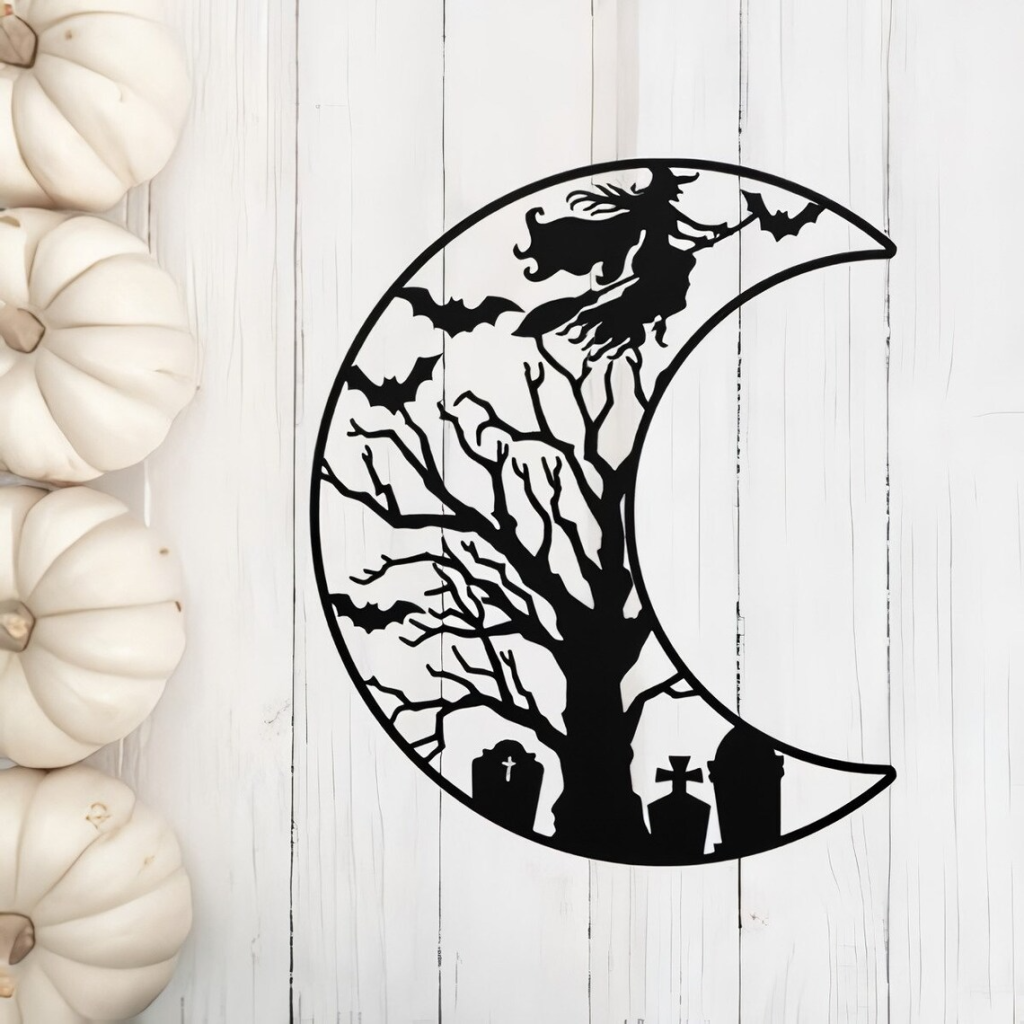 The Spooky Moon Halloween Metal Sign allows you to create a hauntingly beautiful display with its mesmerizing design. The moon's intricate details and mysterious aura will capture everyone's attention, making it an eye-catching addition to your Halloween decor. Whether you're hosting a Halloween party or just want to delight passersby, this metal sign is sure to make a statement.
Premium Quality for Long-Lasting Charm
Designed with durability in mind, this Halloween metal sign is crafted from high-quality materials to ensure it withstands the outdoor elements. The premium craftsmanship guarantees that the sign will maintain its charm and elegance for years to come, making it a beloved piece of your Halloween decorations season after season.
A Perfect Addition to Your Witchy Theme
If you're embracing a witchy theme for Halloween, the Spooky Moon Halloween Metal Sign is a must-have addition to your decor. Hang it on your front door, porch, or in your garden to create a mystical atmosphere that will transport your guests to a world of magic and enchantment. This sign is the perfect complement to any witch-themed decorations you have in mind.
Easy to Display and Enjoy
Installing the Spooky Moon Halloween Metal Sign is a breeze. With pre-drilled holes and mounting hardware included, you can quickly and securely hang it on any surface. Whether you want it as a standalone piece or as part of a larger Halloween display, this metal sign will effortlessly enhance your outdoor decor.
Embrace the Magic of Halloween
Embrace the magic and mystery of Halloween with the Spooky Moon Halloween Metal Sign. Its witchy vibes and captivating design will create an enchanting atmosphere that will leave a lasting impression on all who see it. Welcome the spirits and celebrate the season of tricks and treats with this charming Halloween outdoor decor.
Final Thoughts
The Spooky Moon Halloween Metal Sign is the perfect way to infuse your Halloween decor with witchy charm. Its premium quality, captivating design, and ease of display make it an ideal addition to your outdoor space for Halloween. Embrace the enchantment of the season and welcome guests with this spellbinding metal sign that will add a touch of magic to your Halloween celebrations.