Teacher Apple Grave Marker Metal Garden Stakes: Honoring the Memory of an Educator
Teachers play a vital role in shaping the future, imparting knowledge, and nurturing the minds of generations to come. The Teacher Apple Grave Marker Metal Garden Stakes provide a thoughtful and lasting way to pay tribute to the memory of an exceptional educator. These garden stakes also serve as sympathy gifts, offering solace and support during times of loss.
Celebrating the Impact of an Educator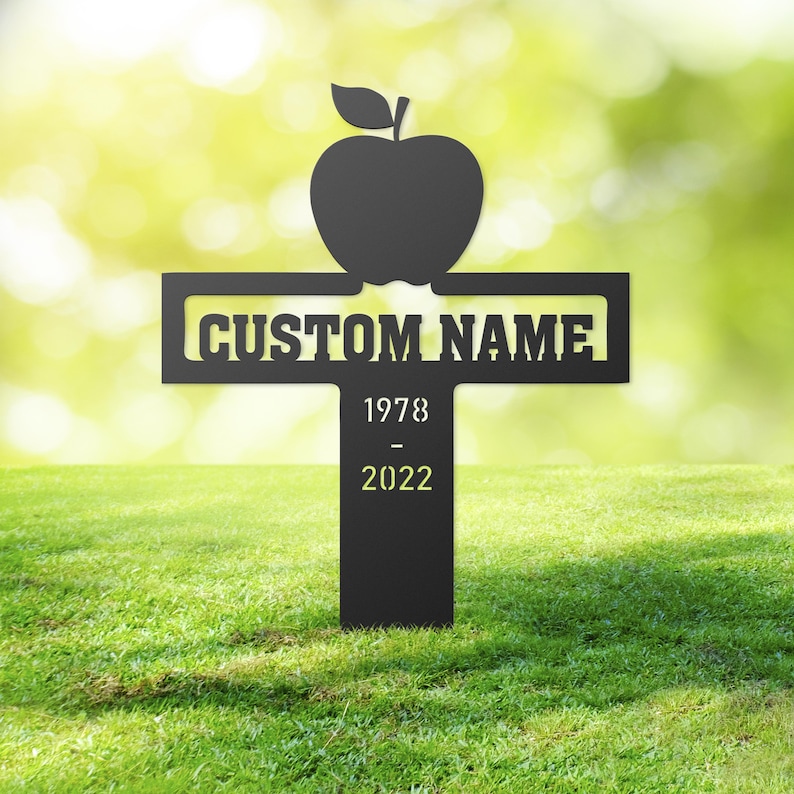 The design of these Metal Garden Stakes features a symbolic apple, representing the teacher's dedication to nurturing growth and knowledge. They stand as a testament to the profound impact that educators have on the lives of their students and the community. Placing these markers in a garden or memorial area is a heartfelt way to remember and celebrate their contributions to education.
The Teacher Apple Grave Marker Metal Garden Stakes remind us of the lessons taught, the wisdom shared, and the guidance provided by the educator. They symbolize the growth of young minds, the development of critical thinking, and the lifelong love for learning that teachers inspire.
Comforting Memorial and Sympathy Gifts
Losing a beloved teacher leaves a void that can be difficult to fill. The Teacher Apple Grave Marker Metal Garden Stakes are not just a tribute; they are also a gesture of sympathy and support. By offering these garden stakes as gifts, you extend your condolences and share in the remembrance of someone who made a profound impact through their dedication to education.
Crafted with care and durability in mind, these metal garden stakes are built to withstand the elements, ensuring they remain a lasting tribute. They serve as a reminder that the legacy of the educator's commitment to learning will endure. Their influence will continue to shape the minds and hearts of the students they taught and inspired.
Whether you use these garden stakes to create a personalized memorial for a beloved teacher or offer them as sympathy gifts to others who mourn the loss, the Teacher Apple Grave Marker Metal Garden Stakes provide a meaningful and poignant choice. Their combination of symbolism, strength, and quality craftsmanship makes them a fitting tribute to honor and celebrate a life dedicated to education and the betterment of society.