The Witch Is In Metal Sign
Summon the Witchy Vibes in Your Home
Get ready to enchant your living space with the mystical allure of the "The Witch Is In" Metal Sign. This bewitching sign is the perfect addition to your Halloween decor, setting the stage for a magical and mysterious ambiance.
Witchy Design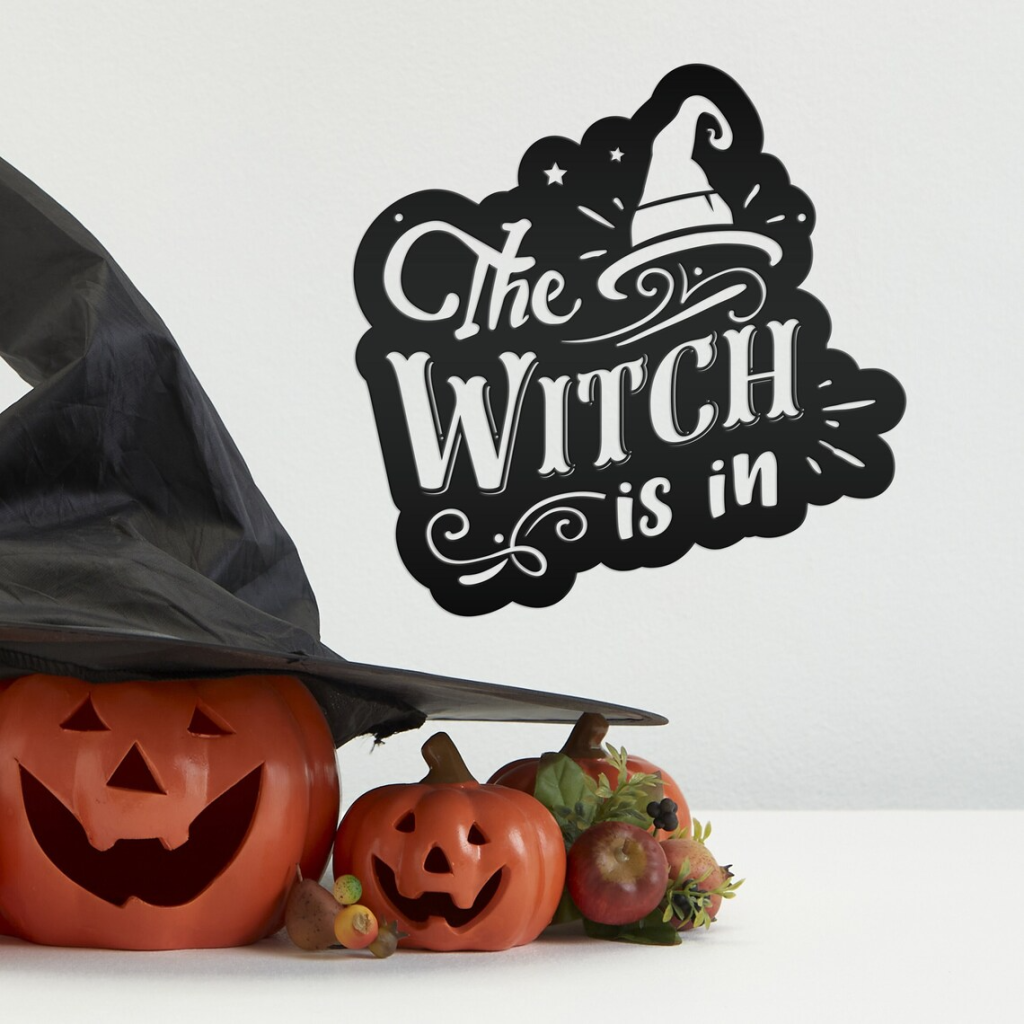 The "The Witch Is In" Metal Sign features a captivating witchy design that will cast a spell on anyone who lays eyes on it. With its silhouette of a witch flying on her broomstick against a full moon backdrop, this sign captures the essence of witchcraft and enchantment.
Welcoming Statement
Hang this sign on your front door, wall, or in your living space to create a welcoming statement for your Halloween guests. Whether you're hosting a spooky gathering or simply want to add a touch of witchy charm to your home, this sign is the perfect choice.
High-Quality Craftsmanship
Made from durable metal, the "The Witch Is In" Metal Sign is built to last. Its high-quality craftsmanship ensures that it can be displayed both indoors and outdoors, making it a versatile addition to your Halloween decorations.
Easy to Hang
The sign comes with pre-drilled holes and mounting hardware, making it incredibly easy to hang wherever you desire. In just a few simple steps, you can have this enchanting piece ready to bewitch your home.
Complete Your Witchy Decor
If you're a lover of all things witchy and magical, the "The Witch Is In" Metal Sign is the missing piece in your Halloween decor puzzle. Pair it with other witch-themed decorations, cauldrons, spell books, and candles to create a truly enchanting atmosphere.
Great Gift Idea
Looking for a unique Halloween gift? The "The Witch Is In" Metal Sign is a great option. Share the magic of the season with friends and family by gifting them this captivating sign that celebrates the allure of witchcraft and the supernatural.
Embrace the Witching Hour
Embrace the witching hour with the "The Witch Is In" Metal Sign. Whether you're a practicing witch, a fan of mystical aesthetics, or just love the enchantment of Halloween, this sign will infuse your space with the captivating vibes of the supernatural realm.
Final Thoughts
Elevate your Halloween decor with the captivating presence of the "The Witch Is In" Metal Sign. Let it be a statement piece that welcomes guests into your bewitching world. With its witchy design, high-quality construction, and easy installation, this sign is a must-have for anyone who loves the magic and mystery of the witching season.