Three Pumpkin Jack O Lantern Metal Sign
Add a Spooky Glow to Your Halloween Decor
Get ready to welcome the spooky season with the Three Pumpkin Jack O Lantern Metal Sign. This Halloween decoration will cast an eerie and enchanting glow on your home, setting the perfect ambiance for a night of thrills and chills.
A Trio of Jack O Lanterns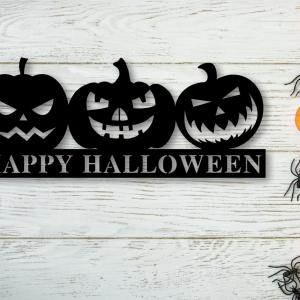 The Three Pumpkin Jack O Lantern Metal Sign showcases a trio of intricately designed Jack O' Lanterns, each with its own unique expression. From friendly grins to mischievous smirks, these pumpkins bring the spirit of Halloween right to your doorstep.
Quality Craftsmanship
This metal sign is carefully crafted using high-quality materials, ensuring its durability and long-lasting appeal. It is resistant to weather elements, making it suitable for both indoor and outdoor display, so you can showcase it in your living room or adorn your front porch with it.
Easy Installation
The Three Pumpkin Jack O Lantern Metal Sign comes with pre-drilled holes and mounting hardware, making installation a breeze. Hang it on your walls, doors, or fences with ease, and instantly transform your home into a Halloween haven.
A Charming Halloween Accent
Whether you're hosting a Halloween party, decorating your home for trick-or-treaters, or just getting into the Halloween spirit, this metal sign adds a charming and festive touch to any setting. It's the perfect accent piece to complement your other Halloween decor.
Create Spooktacular Memories
Halloween is a time for creating magical memories with family and friends. The Three Pumpkin Jack O Lantern Metal Sign sets the stage for a night of fun and scares, as you immerse yourself in the Halloween festivities with loved ones.
A Gift to Remember
Looking for a unique and memorable Halloween gift? The Three Pumpkin Jack O Lantern Metal Sign is an excellent choice. Surprise a fellow Halloween enthusiast or a friend who loves all things spooky with this charming and thoughtfully crafted metal sign.
Final Thoughts
The Three Pumpkin Jack O Lantern Metal Sign is a must-have for Halloween lovers who want to add an extra touch of spookiness to their homes. Its intricate design, high-quality craftsmanship, and easy installation make it an ideal Halloween decoration. Embrace the magic of Jack O' Lanterns and transform your home into a bewitching wonderland with this delightful metal sign.