Welcome Witches Metal Sign
Welcome Witches to Your Spooky Haven
Transform your home into a bewitching abode this Halloween with the Welcome Witches Metal Sign. This eerie and captivating sign adds a touch of mystery and enchantment to your haunted house decor, setting the scene for a truly magical Halloween atmosphere.
A Haunting Greeting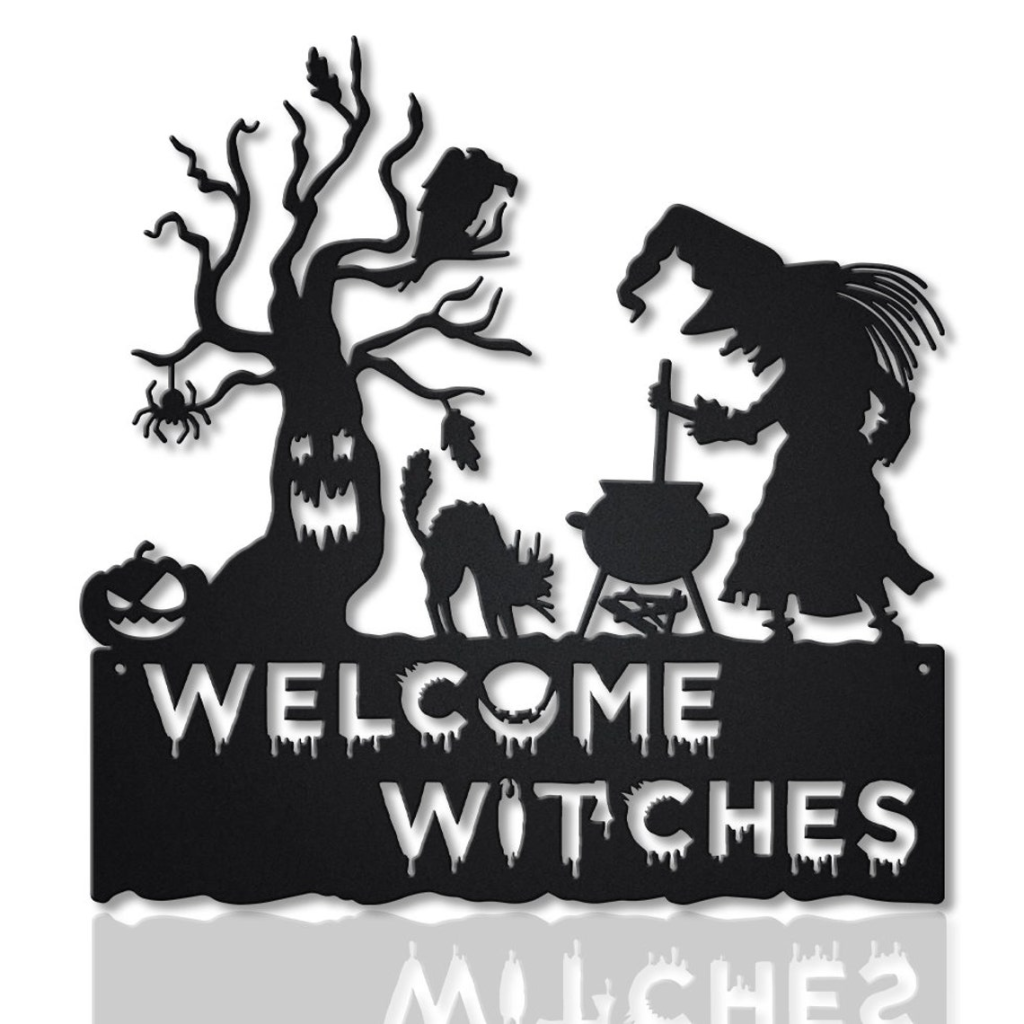 The Welcome Witches Metal Sign features a chilling message that beckons all witches to enter. With its spooky font and hauntingly inviting design, this sign creates an atmosphere of dark elegance that's perfect for any witch-themed Halloween setup.
Creepy and Captivating Design
The detailed and intricate design of this metal sign captures the essence of witchcraft and mystery. The combination of the moon, bats, and the word "Welcome" creates a visual feast that draws the eye and piques the curiosity of anyone who sees it. It's a statement piece that's sure to leave a lasting impression.
Durable Craftsmanship
Crafted with durability in mind, the Welcome Witches Metal Sign is made from high-quality metal that can withstand the elements and the passage of time. This means you can enjoy its haunting allure not only during this Halloween but for many more to come, making it a timeless addition to your decor collection.
Easy Hanging and Display
Getting your home ready for the spookiest night of the year shouldn't be a hassle. That's why the Welcome Witches Metal Sign comes with pre-drilled holes and mounting hardware, allowing you to effortlessly hang it on your walls, doors, or entryways. Create a bewitching focal point in no time.
A Must-Have Halloween Accent
Whether you're throwing a Halloween party or just want to add a touch of mystique to your home, the Welcome Witches Metal Sign is a must-have accent. It seamlessly blends in with a variety of decor themes and serves as a captivating centerpiece that will intrigue and delight your guests.
A Memorable Gift
Looking for a unique and memorable Halloween gift? The Welcome Witches Metal Sign is an ideal choice. Whether you're surprising a fellow witch enthusiast or adding to someone's collection of spooky decor, this sign is a thoughtful gesture that's sure to be appreciated.
Create an Enchanted Atmosphere
Pair the Welcome Witches Metal Sign with other Halloween decorations, such as cauldrons, potion bottles, and broomsticks, to create a truly enchanting atmosphere. Let the mysterious allure of the sign transport you and your guests to a world of magic and wonder.
Embrace the Mystical Vibes
Embrace the mystical and otherworldly vibes of Halloween with the Welcome Witches Metal Sign. Its captivating design, durable craftsmanship, and eerie charm make it an essential piece for your Halloween decor. Let the sign's haunting invitation welcome you to a world of enchantment and sorcery.
Final Thoughts
Get ready to welcome all the witches to your haunted house with the Welcome Witches Metal Sign. Its captivating design and enchanting aura make it a standout addition to your Halloween decorations. Set the stage for a bewitching celebration and let the magic of Halloween come to life in your home.