Witch And Cat Halloween Metal Sign – Halloween Decoration for Home
Add Some Witchy Charm to Your Halloween Decor
As the moon rises and the night grows dark, the enchanting spirit of Halloween comes to life. Welcome this mystical season with the Witch And Cat Halloween Metal Sign, a perfect addition to your Halloween decoration collection. This witchy sign will add a touch of magic and charm to your home and set the mood for a spooktacular celebration.
A Bewitching Design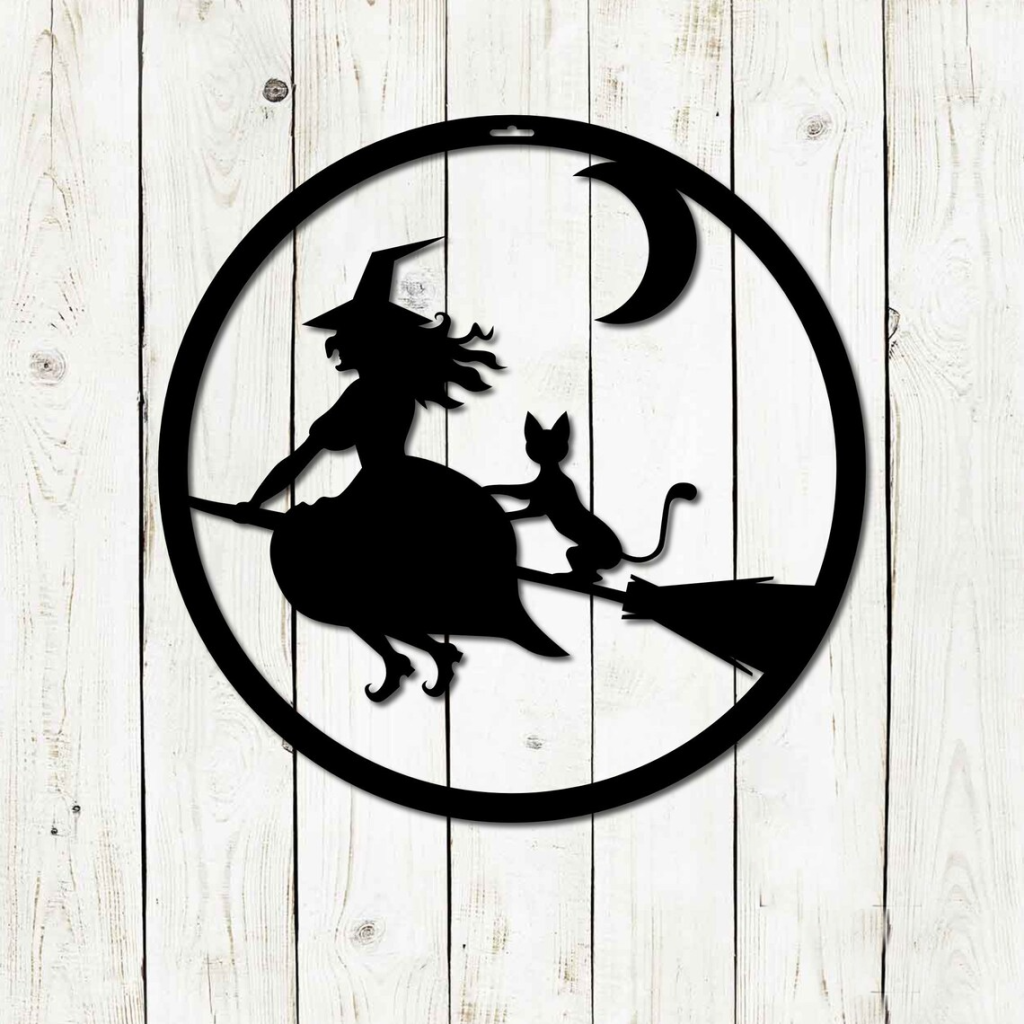 The Witch And Cat Halloween Metal Sign features a bewitching design of a witch flying on her broomstick with her faithful cat companion by her side. The intricate details and high-quality craftsmanship bring this magical scene to life, making it a standout piece in your Halloween decor.
Customizable Option
Make this Halloween decoration truly your own by personalizing it with your family name or a special Halloween message. The custom text option allows you to add a unique touch to the sign, making it a treasured keepsake for years to come.
Durable and Weather-Resistant
Made from sturdy metal, this Halloween sign is built to withstand the outdoor elements. Whether you hang it on your front door, porch, or in your living room, you can be confident that it will maintain its beauty and charm for years, making it a delightful part of your Halloween tradition.
Easy to Hang
The Witch And Cat Halloween Metal Sign comes with pre-drilled holes and mounting hardware, making it easy to display in your home. Hang it on your front door to welcome trick-or-treaters or on a prominent wall to add a bewitching touch to your Halloween party decorations.
A Magical Gift
Looking for a unique Halloween gift for a fellow Halloween enthusiast? The Witch And Cat Halloween Metal Sign is a thoughtful and enchanting choice. Surprise your friends or family members with this spellbinding sign that captures the spirit of Halloween and the magic of the season.
Final Thoughts
The Witch And Cat Halloween Metal Sign is more than just a Halloween decoration; it's a symbol of the whimsy and wonder that Halloween brings. With its bewitching design, customizable option, and durable construction, this metal sign is a must-have for any Halloween lover's home. Embrace the magic of the season with this delightful and charming witchy sign, and let the enchantment of Halloween fill your home.