Zombie Kids Metal Sign – Scary Kids Halloween Yard Art
Prepare for a Frightful Halloween
Halloween is the time when the spirits come alive, and what better way to set the spooky scene than with the Zombie Kids Metal Sign. This eerie yard art will send chills down your spine and give your Halloween decor a frightful touch.
Creepy Customization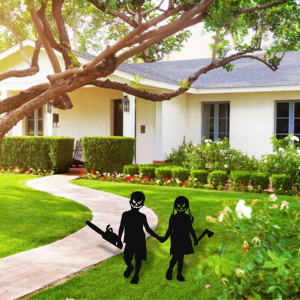 The Zombie Kids Metal Sign allows you to create a chilling scene with customizable features. You can choose from different zombie kids designs, add your family name, or a spooky message to make it uniquely yours. It's a Halloween decoration that will definitely stand out in your neighborhood.
Durable and Weather-resistant
Constructed with high-quality metal, this scary kids Halloween yard art is built to withstand the elements. Whether it's rainy, windy, or even a bit of zombie chaos, this sign will remain intact and continue to spook visitors year after year.
Transform Your Yard into a Haunted Haven
As the moon rises on Halloween night, the Zombie Kids Metal Sign will transform your yard into a haunted haven. Its creepy design will make it look like a group of undead kids is lurking in your yard, sending shivers down the spines of trick-or-treaters and passersby.
Unforgettable Halloween Memories
Make this Halloween one to remember with the Zombie Kids Metal Sign. It's the perfect addition to your Halloween decorations, and it will create unforgettable memories for your family and friends as they brave the spooky sight of the zombie kids in your yard.
A Spooktacular Gift
Looking for a ghoulishly great Halloween gift? The Zombie Kids Metal Sign is a fantastic choice. Surprise a fellow Halloween enthusiast with this scary kids yard art, and they'll be thrilled to display it in their own haunted home.
Final Thoughts
Embrace the spooky season with the Zombie Kids Metal Sign – a Halloween decoration that will give your yard an eerie and unforgettable touch. Customize it to make it your own and welcome the undead kids into your Halloween festivities. Get ready for a Halloween night filled with chills, thrills, and creepy delights with this terrifyingly fun yard art.