Biker Rider Riding with Angels Grave Marker Metal Garden Stakes
These Biker Rider Riding with Angels Grave Marker Metal Garden Stakes serve as a touching memorial and sympathy gift to honor the memory of a beloved biker. Crafted with care and durability, these garden stakes provide solace and support to those who have lost a cherished rider.
Celebrating the Spirit of a Biker Rider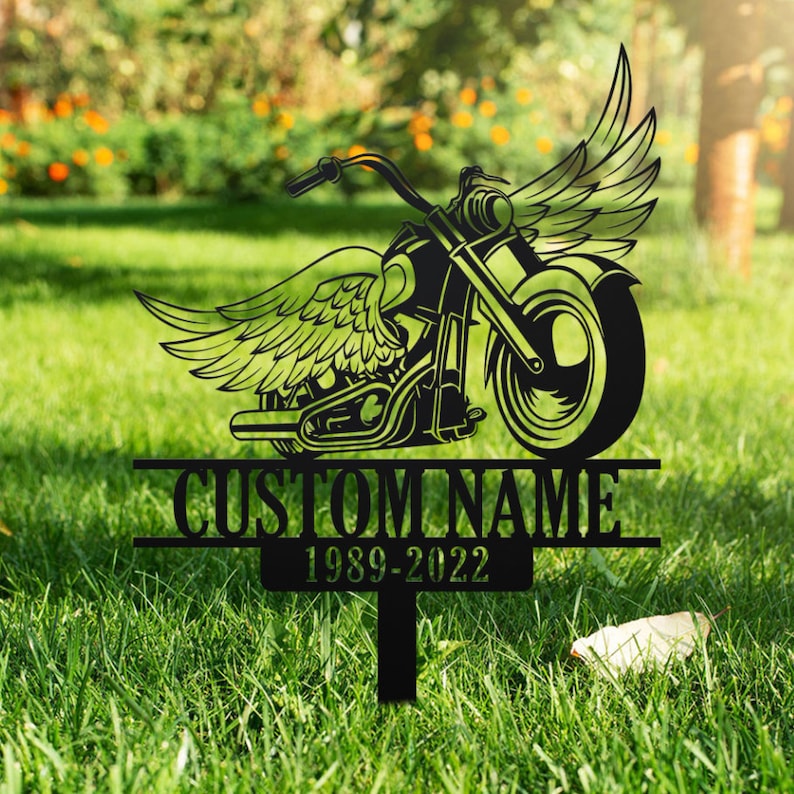 The design of these Biker Rider Riding Metal Garden Stakes captures the essence of a biker's free spirit and love for the open road. They feature a biker riding alongside angels, symbolizing the journey of the rider into the heavens. This design pays tribute to the biker's adventurous soul and the eternal ride they embark on with the angels.
Heartfelt Memorial and Sympathy Gifts
Losing a beloved biker leaves a void that's challenging to fill. These garden stakes offer a way to express condolences and stand in solidarity with those who are grieving. By presenting these garden stakes as sympathy gifts, you extend your support to those mourning the loss of a rider they held dear.
These metal garden stakes are carefully crafted to withstand the elements, ensuring they remain a lasting tribute to a passionate biker rider. They serve as a reminder that while the rider may no longer be with us, their memory lives on in the hearts of those who shared the road with them.