Cincinnati Bengals USA Country Flag Metal Sign: Football Fan Gift
For passionate Cincinnati Bengals football fans, the Cincinnati Bengals USA Country Flag Metal Sign is the ultimate way to showcase team loyalty while celebrating the nation's spirit! This unique sign seamlessly blends team pride with patriotic sentiment, creating a remarkable piece that appeals to both football enthusiasts and patriotic citizens. Let's delve into its features and discover why it's an exceptional gift for fans.
Football Fervor with a Patriotic Twist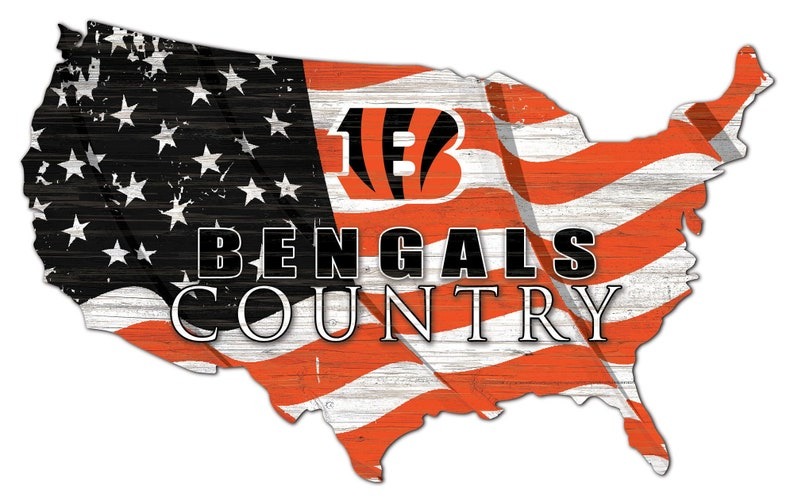 The Cincinnati Bengals USA Country Flag Metal Sign masterfully combines the excitement of football with a deep sense of national pride. This sign proudly displays the Bengals' emblem alongside the iconic American flag, symbolizing the powerful connection fans have with their team and their country. The design captures the heart of Bengals devotion while honoring the principles that make the nation great.
Whether it graces a fan's den, living area, office, or personal space, the sign adds a touch of both football passion and patriotic dedication to any environment. It serves as a visual representation of the unbreakable bond between sports and national identity.
The Perfect Fan Gift: Blending Team Allegiance and Patriotism
When seeking a gift that resonates profoundly, the Cincinnati Bengals USA Country Flag Metal Sign stands out as an excellent choice. By merging football enthusiasm with love for the country, this sign becomes a thoughtful and meaningful present for Cincinnati Bengals football devotees.
Personalization is a key aspect, and this sign delivers just that. Its design harmoniously combines the team's emblem with the American flag, creating an item that speaks directly to the recipient's Bengals pride and their love for their country. Whether it's a lifelong fan or a new supporter, this sign encapsulates both team loyalty and patriotic sentiment.