DINOZOZO Personalized Dog Memorial Stake – Dachshund Dog
The DINOZOZO Personalized Dog Memorial Stake for Dachshund Dog is a heartfelt way to commemorate and remember your beloved Dachshund. These custom metal signs provide a personalized and enduring tribute that offers solace during times of loss.
Celebrate Your Dachshund Dog's Unique Legacy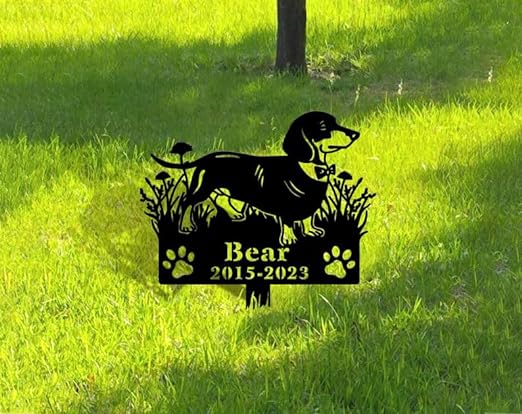 This memorial stake showcases a personalized design that captures the distinctive qualities of your Dachshund. The breed-specific design beautifully represents your dog, and you have the option to customize it with your Dachshund's name and significant dates. This personalization creates a truly one-of-a-kind and meaningful memorial for your cherished pet.
Thoughful Dog Memorial Gifts
Losing a beloved pet can be a profound and emotional experience. The DINOZOZO Personalized Dog Memorial Stake offers a compassionate way to express your love and devotion to your Dachshund Dog. These custom metal signs also make considerate gifts, providing comfort and support to friends and family who are going through a similar loss. Crafted from durable materials, these memorial stakes are designed to withstand outdoor conditions, ensuring they remain a lasting tribute to your beloved Dachshund.
These personalized dog memorial stakes serve as a tangible and enduring reminder of your dog's presence in your life. Whether you choose to create a personalized memorial in your own garden or share these custom metal signs with others, they help keep the memory of your Dachshund Dog alive in your heart and in your outdoor space.