DINOZOZO Tampa Bay Buccaneers Logo Round Metal Sign
Football Signs Gift for Fans – Custom Metal Signs
Introducing the DINOZOZO Tampa Bay Buccaneers Logo Round Metal Sign, the perfect addition for passionate football fans. This custom sign is meticulously crafted from high-quality metal, making it an ideal decoration and a personalized fan memorabilia piece. Let's explore what makes this sign a fantastic choice for showcasing your unwavering support for the Buccaneers or for gifting fellow fans.
Your Custom Fan Decor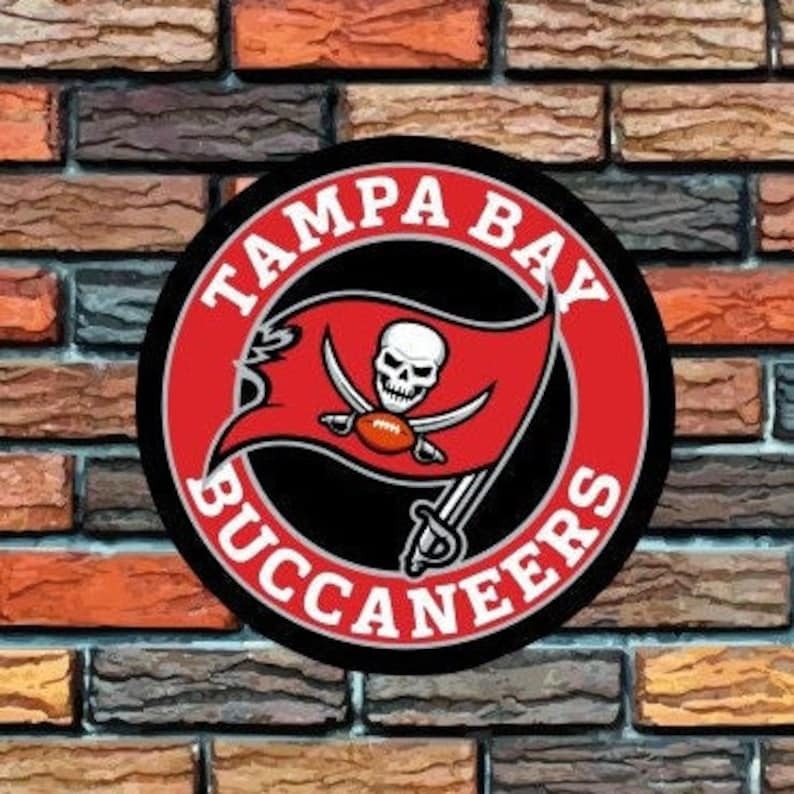 The DINOZOZO Tampa Bay Buccaneers Logo Round Metal Sign proudly displays the iconic Buccaneers logo, making it an essential addition to your fan cave or any living space. What sets it apart is the option for personalization. You can add your name, a special message, or any text of significance, creating a truly unique fan decor item that proudly represents your team loyalty and your unique fan identity.
The Ultimate Gift for Buccaneers Fans
When you're in search of the perfect gift for a Tampa Bay Buccaneers enthusiast, this personalized metal sign is a remarkable choice. Whether it bears their name or a heartfelt message, this sign becomes a cherished gift symbolizing their deep connection to the team. Constructed from top-quality metal, it's designed to endure, ensuring it remains a meaningful part of their fan memorabilia collection.
Show Your Buccaneers Pride
The DINOZOZO Tampa Bay Buccaneers Logo Round Metal Sign goes beyond being just decor; it's a bold declaration of your unwavering support for the Buccaneers. The iconic logo combined with personalized text enhances your space with Buccaneers pride, whether it's placed in your fan cave, living room, or any space of your choice. It adds both style and team spirit, elevating your surroundings and making game days even more special.
Don't miss the opportunity to make a personalized statement about your dedication to the Tampa Bay Buccaneers. Order your custom metal sign today and let your fan pride shine!